A Hitchhiker's Guide to South Korea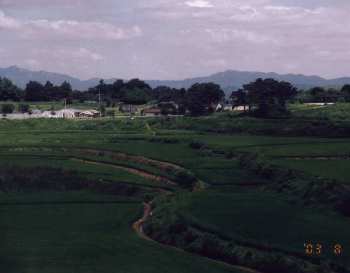 By Charles Alexander Moffat - Saturday August 23rd, 2003.
Okay, technically I don't hitchhike anymore. I took the express bus from Jeonju to Seoul for the photos below. But it felt like a suitable name for this website because it shows just how much I love to travel.
Blame my parents if you want to. They raised me to appreciate the value of travelling, and also the value of nature. This last value is not lost on the people of Korea. 70% of South Korea is covered with mountains and trees.
The 51 million people that live in South Korea are mostly in the cities. Seoul alone has a population around 11 or 12 million. When travelling it is amazing just how much of the country is not populated at all. Vast expanses of forests and mountains, with valleys filled with rice paddies and gardens. Nature is a very important part of Korean culture and it shows how they strive to protect it.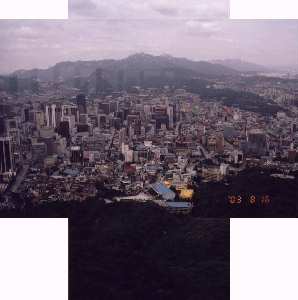 I have not seen a single smokestack. It makes me wonder where the factories are. They are here (somewhere?), but I haven't seen any. The factories simply don't seem to use smokestacks, which is a vast difference from the industrial areas of cities in the United States and even Canada.
Note: Actually I did eventually see a factory with a smokestack that looked a lot like a cigarette... and it had the letters FAG written down the side. I didn't have my camera on me unfortunately.
With such huge expanses of forest, I have also noted that there is extremely little polution here. None. There is garbage however... it collects in the streets sometimes. But the garbage doesn't stay there long. Old men collect the garbage and wheel it away. I am not sure whether it is their jobs, or is it just a hobby. The old man who picks up the garbage in my neighbourhood is a couple teeth short of a full grin, but when he smiles his face wrinkles up from a lifetime of happiness.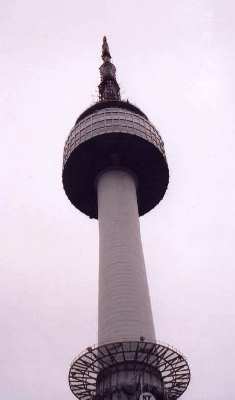 For my first trip to Seoul, my prime reason for going was to see the art gallery district of Insadong. For those people familiar with Toronto, Insadong is like if someone had closed down traffic on Queen Street West and made it a pedestrian street, and every shop was an art gallery or crafts store. For those not from Toronto, just imagine a long street of nothing but art galleries. It was incredible. I wish Toronto had an arts district like that.
The crowds there were also incredible, and for the first time since I came to South Korea I was seeing foreigners regularly and hearing people speaking english (and german and spanish and russian...) Dzien dobro!
I did not take any photos of Insadong. I did buy a book from one of the art galleries I went to. It was showcasing contemporary work by a large group of artists. For the 10,000 won I paid (roughly $11 Canadian) it is a pretty thick book with a lot of quality photos of their paintings.
South of Insadong, towards the Seoul Towers in Namsan Park the street turns more into antiques. Everything from swords, war-axes (both ornamental and real ones), cannons, giant Buddhist bells, a canoe, and even antique bow and arrows. I was tempted to buy a Korean Tomahawk at one point but changed my mind. It wasn't that good of quality.
The two towers (and we're not talking New York here) of Namsan Park look like smaller versions of the CN Tower in Toronto and the Eiffel Tower in Paris. Photos wise, check out #2. From that angle I had to take two photos and splice them together to get the whole tower into one photo.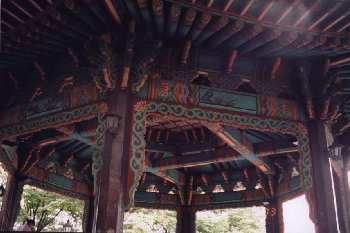 The Gazebo's in Wansan Park are also quite interesting. Indeed these gazebos are found all over South Korea. They're all brightly painted. See the Canopy photo in the Other section below too.
Wansan Park is Seoul's equivalent to Central Park in New York or Downsview Park in Toronto. So much of Seoul itself is mountains and trees too. The photos below show only part of city. With 11 million people, the city is too big to squeeze into one photo. Seoul #4 below is two photos that were spliced together.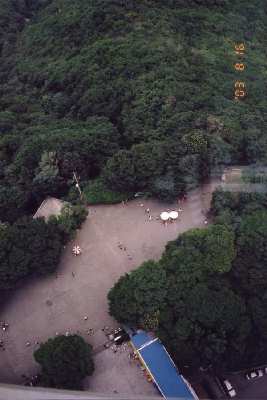 You can see all of Seoul from Namsan tower, and on a clear day, the ocean. But because the tower is in the middle of the city, its impossible to get a shot that shows the whole city. It would take about 24 photos spliced together to get a full panorama of the city.
The Korean (Hanguk) word for tree is "NAMU". Nah-moo. Say it quickly 10 times! Since there is so many trees in Korea I have been trying to learn the names of the different trees. The equivalent of a Maple tree here is a "Tam-boon Namu". The B sounds a bit like a P.
Many of the trees, especially those in temples or palaces are hundreds of years old. There is even a few that are over a thousand years old. I have seen one tree that is over a thousand. It grows out of the side of a cliff and has branched out like a vine across the face of the cliff until it it 70 metres (seventy!) wide. That particular tree is at a temple in Southern Jeollabukdo.
The palaces shown below are part of Changdeukgung palace in Seoul, just north of Seoul Tower. The 3 ponds at Changdeukgung are also incredible. I am told they are best viewed in Autumn, but they are certainly beautiful any time of the year.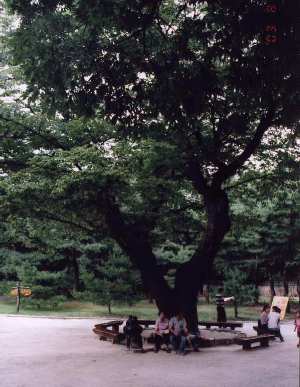 The water lilies on the ponds remind me that South Korea also has lotuses. Sadly, lotus season is already over and I have no photos of what the flowers look like.
Another note is that roses here grow on the side of the road. They are almost like weeds, there is roses everywhere. When driving in the countryside you see rows of roses growing wild on the side of the highway. Rather like daylilies or daffodils in Canada.
The architecture here is quite inspirational. A lot of the photographs I've been taking I've been deliberately composing the image with the idea of mmaking a painting eventually. Others are just for purposes of showing people what certain things look like in detail (ie. The eaves of a rooftop to the right. --> ).
I have another roll of film that I have not developed yet which shows an excellent shot of a crowd at the Changdeukgung palace. All of the other photographs I have deliberately avoided getting people in the photos. Sometimes I couldn't help it because there was simply too many people on the tours.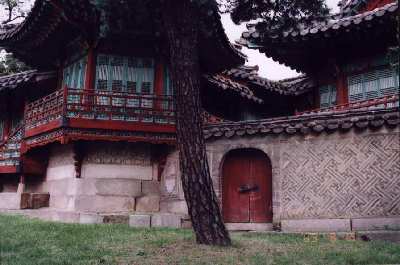 A note about the people here: They get very patriotic when they start thinking of the re-unification of North and South Korea. At the Universiade (which is like a small Olympics for all world athletes) that was in Daegu, just north of Jeonju where I live, the teams from North and South Korea walked into the stadium standing side by side, as one team. Symbolic things like this tend to get the Koreans feeling very weepy-eyed and patriotic.
When watching Arirang News (an English version of South Korean news) several nights ago there was a bit about the North Korean cheerleaders... when I first heard this I thought of the typical North American cheerleader stereotype and then I tried to imagine North Koreans doing such a scantily-clad thing... it just didn't seem right. Nope, the North Korean cheerleaders have a totally different attitude. Dressed in red shirts and white pants (no skin showing), the North Korean cheerleading squad was about 150 women who did VERY LOUD cheers and patriotic chants (unlike American cheerleaders which are just eye-candy and don't say anything that loud) for the athletes at the Universiade. The audience, made up mostly of South Koreans, quickly learned the chants and was singing along with the North. Even some of the athletes sang. Its no surprise that a whole stadium singing in unison made the evening news.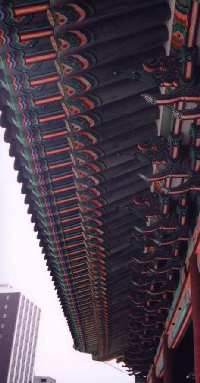 And just this past Thursday, I was heading to work and listening to an English talk show here in South Korea. People were calling in and discussing what an unified North and South Korea should be called. "The Democratic People's Republic of Korea" (DPRK) is the proper name of North Korea. South Korea's proper name is "The Democratic Republic of Korea". The only difference is the "People's" added to North Korea's full name. And so people were calling in with examples like "The United People's Republic of Korea" or The Democratic Republic of a United Korea", or simply "United Korea" or just "Korea"... but then the initials would be UK, which is already the initials of the United Kingdom... and then there is the fact that North Koreans pronounce it the "K" in Korea more like a "G"... so the suggestion of "Gorea" is also possible.
Korea is already the international standard however, so it will probably stay a hard K and not a G/K sound.
Children:
The children of South Korea (like Poe & Yvette above who are two of my students) vary wildly. Many of them will walk up to a foreigner on the street and say "Hello!" Some extra hyperactive children will even SCREAM "Hello!" Foreigners are very much a novelty here and the children don't hesitate to stare. The Baby on the Bus probably did not care that I was foreigner, but he was very cute so I just had to take a couple photos.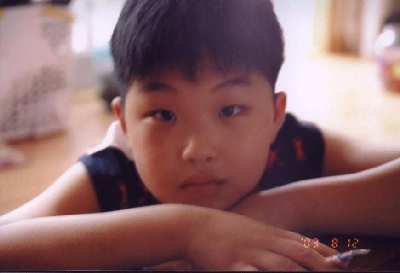 Miscellaneous/Other:
Like any bunch of photographs, any attempt to categorize them by groups leaves the person with an extra group. The hideous "Miscellaneous File"... such a group is usually left until last, but it is not necessarily the worst of the things. Indeed I took 206 photographs, and only 59 photos actually made it to this webpage. And so these photographs still beat out all the other photos and thus still deserve attention.
For reference, developing photographs in South Korea is very inexpensive and high quality, even better than the photo labs that I used in Toronto (where it was quite expensive to develop 206 photographs). And all 6 rolls was done within an hour. How good is that?
UPDATE: I don't actually recommend teaching english in South Korea any more. The companies are corrupt and there is no legal protection for foreigners teaching ESL.
About South Korea: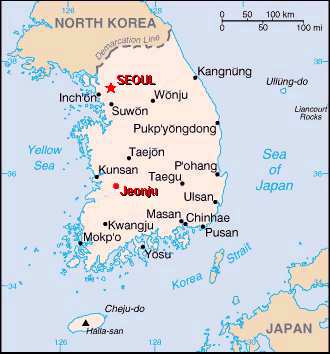 A lot of this info was gathered from the CIA website. Strange how they keep such databases on everything?
Geographic coordinates: 37 00 N, 127 30 E.
Location: Eastern Asia, southern half of the Korean Peninsula bordering the Sea of Japan (also called the Korean Sea) and the Yellow Sea.
Area: Total: 98,480 sq km, Land: 98,190 sq km, Water: 290 sq km.
Size Comparison: Slightly larger than Indiana.
Coastline: 2,413 km.
Terrain: Mostly hills and mountains; wide coastal plains in west and south.
Highest point: Halla-san mountain 1,950 m.
Natural resources: Coal, tungsten, graphite, molybdenum, lead, hydropower potential.
Land use: Arable land: 17.44%, Permanent crops: 2.05%, Mountains/Forest: 80.51% (1998 estimate).
Irrigated land: 11,590 sq km (1998 estimate).
Natural hazards: Occasional typhoons bring high winds and floods; low-level seismic activity common in southwest.
Population: 48,289,037 (July 2003 est.) There is also approximately 2.5 million overseas workers from Japan and China.
Life expectancy at birth: Total population: 75.36 years, Male: 71.73 years, Female: 79.32 years (2003 est.).
Total fertility rate: 1.56 children born/woman (2003 est.).
Religions: Christian 49%, Buddhist 47%, Confucianist 3%, Shamanist, Chondogyo (Religion of the Heavenly Way, which is a mix of Buddhist and Christianity), and other 1%.
Literacy: Definition: age 15 and over can read and write, Total population: 98.1%.
Languages: Korean (Hangugo), English widely taught in junior high and high school.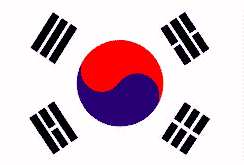 Capital: Seoul.
Independence Day: 15 August 1945 (from Japanese occupation and the start of the American occupation).
Legal system: Combines elements of continental European civil law systems, Anglo-American law, and Chinese classical thought.
Suffrage: 20 years of age; universal.
Executive: South Korea has both a President and a Prime minister. The president is elected by popular vote for a single five-year term (no re-election). The prime minister is appointed by the president, and serves a role similar to the Governor General in Canada.
Economy - overview: As one of the Four Tigers of East Asia, South Korea has achieved an incredible record of growth and integration into the high-tech modern world economy. Three decades ago GDP per capita was comparable with levels in the poorer countries of Africa and Asia. Today its GDP per capita is roughly 20 times North Korea's and equal to the lesser economies of the European Union. This success through the late 1980s was achieved by a system of close government/business ties, including directed credit, import restrictions, sponsorship of specific industries, and a strong labor effort. The government promoted the import of raw materials and technology at the expense of consumer goods and encouraged savings and investment over consumption. The Asian financial crisis of 1997-99 exposed longstanding weaknesses in South Korea's development model, including high debt/equity ratios, massive foreign borrowing, and an undisciplined financial sector. Growth plunged by 6.6% in 1998, then strongly recovered to 10.8% in 1999 and 9.2% in 2000. Growth fell back to 3.3% in 2001 because of the slowing global economy, falling exports, and the perception that much-needed corporate and financial reforms had stalled. Led by consumer spending and exports, growth in 2002 was an impressive 6.2%, despite anemic global growth.
South Korea's economy is growing strongly. The rising value of the won, along with growing exports to China have made South Korea one of the world's largest economy's despite its small size.
GDP: Purchasing power parity - $931 billion (2002 est.).
Population below poverty line: 4% (2001 est.).
Electricity - production by source: fossil fuel (coal): 62.4%, hydro: 0.8%, solar: 0.2% (2001), nuclear: 36.6%. South Korea actually has an overabundance of electrical energy (an average of 20 billion kWh that they don't use). This abundance keeps electricity prices low.
Oil - consumption: 2.14 million bbl/day (2001 est.) .
Exports - partners: US 20.2%, China 14.6%, Japan 9.3%, Hong Kong 6.2%, Taiwan 4.1% (2002). Exports to/from China are growing. China is expected to surpass the United States as the world's biggest economy before 2008. The population value of China is turning it into an economic powerhouse. Some of Korea's important exports are cars built by Hyundai, Kia and Opirus.
Imports - partners: Japan 19.5%, US 14.9%, China 10.9%, Saudi Arabia 5.0%, Australia 3.9% (2002).
Currency: South Korean won (KRW).
Exchange rates: South Korean won per US dollar - 1,251.09 (2002), 1,290.99 (2001), 1,130.96 (2000), 1,188.82 (1999), 1,401.44 (1998). The value of the Korean won has been steadily growing despite setbacks since Sept 11th. Most recently, 1000 Korean won is worth $1.21 Canadian or $0.86 American. For reference, my pay while here is 2 mil won per month, with a bonus of 1 months pay at the end of my contract. Currently that works out to $2,420 CDN/month (plus free apartment and free plane tickets).
Telephones: 24 million main lines, and 28 million cell phones. (Sept 2000 Est.).
Internet users: 25.6 million (2002).
Military expenditures - percent of GDP: 2.8% or $13,094,300,000 (FY02).
International Disputes: Military Demarcation Line within the 4-km wide Demilitarized Zone has separated North from South Korea since 1953; Liancourt Rocks (Take-shima/Tok-do) are disputed with Japan.