Toyota Prius Hybrid 2007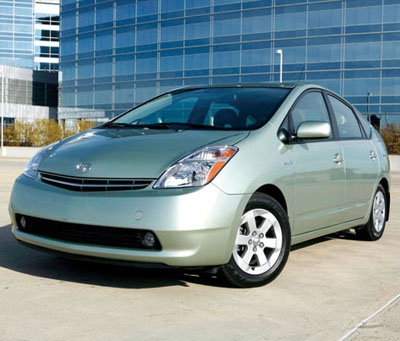 Prius losing ground to rivals
Demand continues for Toyota's hallmark gas/electric hybrid vehicle despite growing rivals.
May 2nd 2007.
The reasons are quite simple: the Prius is a high-tech, roomy, lavishly equipped and extremely fuel-efficient mid-size car, backed up by Toyota engineering. Its fuel frugalness is thanks to Toyota's Hybrid Synergy Drive, which combines a 50-kw electric motor, 1.5-litre, 76-hp gas engine and CVT transmission. Able to run independently or as a team, the two power sources can move the car from 0-100 km/h in about 10 seconds. However Camry, Accord, Civic are proving to be more popular among green buyers.
There was once a car so popular for the environmental statement it made that it attracted buyers such as Prince Charles and actors Leonardo DiCaprio and Cameron Diaz. Like the most sought-after Louis Vuitton or Hermθs handbag, there was a wait-list six months long to get behind the wheel.
But as trends come and go, the media hype for the Toyota Prius melted away and, with new mainstream-looking hybrids flooding the market, one wonders whether there's still a need for the futuristic looking car?
My first guess is no, we don't need the Prius. But when you look at the sales numbers, the Canadian car-buying public says otherwise. Well, sort of.
It turns out the world's first mass-produced gasoline-electric hybrid automobile, which went on sale in Canada in 2000, had its best March yet with 218 sales (up almost 30 per cent over sales in March of last year). According to Toyota Canada, between 2000 and 2003 it sold only 1,102 first-generation Priuses, those compact sedans that blended in with traffic.
When the Prius was redesigned with its current look for the 2004 model year, sales in Canada climbed to 1,951 the first year, 1,956 the following year and 2,003 for 2006. As of the end of March, 500 Priuses had already been sold this year.
However, those numbers don't prove the Prius is becoming more or less popular. It's simply that hybrids are becoming mainstream and the Prius is the most well-known, the flagship of hybrids.
In the first year that Toyota's top-selling Camry went hybrid, 2,116 cars were sold. So far this year, the Japanese automaker has sold 1,065 Camry hybrids in Canada. That's more than double the Prius.
The simple answer is that Canadians don't need the Prius, but they still want it. But not as much as they are scrambling to buy hybrids that blend in, such as the Camry, Honda's Civic and Accord, Ford's Escape and the Saturn Vue and Aura.
"The Prius has iconic value already in its short life and will continue to receive consumer support as the trusted hybrid brand – at least into the near future," says Karri Winn, of greenfestivals.org, an MBA graduate of the Bainbridge Sustainability program and green strategy consultant for CultureofFuture.com. "But as a standalone design representative of alternative fuel vehicles, its role is already diminishing."
2007 Toyota Prius
Price: base/as tested $31,280/$36,600
Engine: 1.5-litre DOHC four-cyl.
Power/torque: Gasoline engine, 76 hp/82 lb.-ft; electric motor: 67 hp/295 lb.-ft.
Fuel consumption: city 4.0, hwy. 4.2, as tested 5.7 L/100 km
Federal rebate/penalty: Rebate
Competition: Honda Civic Hybrid, Volkswagen Golf/Jetta TDI
What's best: Fuel consumption, reduced emissions, cargo space
What's worst: Engine noise, slow take off, legroom
What's interesting: Air-conditioning runs off the electric motor; it functions even when the gas engine is stopped
Anthony Durkacz, a Toronto resident and vice-president of a fuel-cell company, is part of that shift to the mainstream. After leasing a Prius for the past 2 1/2 years he traded it in last week for a Camry hybrid.
"The Camry hybrid has more power, all of the luxuries of an upscale gasoline-powered car, is sleeker and is not as in your face as the Prius," says Durkacz who made the switch to the Camry to accommodate his newest family member, a son, due in June. "I still like the Prius, but I got bored of its looks."
Without a doubt, its looks are unique. But there's more to the Prius's design than an environmental statement. As fuel prices keep soaring, Toyota claims the Prius is one of the cleanest and most fuel-efficient hybrids thanks, in part, to the aerodynamic design that results in a low co-efficient of drag and increased fuel economy.
The second, and most important, part of that fuel-sipping and pollution reducing formula is the Hybrid Synergy Drive. Unlike some of the competition, the Prius is a full hybrid, which means it's capable of running in gas or electric modes or with the gas and electric motors working together.
A 1.5-litre gasoline engine that makes 76 horsepower and 82 pound-feet of torque is paired with an electric motor with 67 hp and a peak torque of 295 lb.-ft. from 0 to 1200 r.p.m. Added to the mechanical mix is a continuously variable transmission, which helps the mid-sized car zip around seamlessly.
Inside, the design is just as odd as its exterior. The steering wheel is about the only familiar piece; everything else looks as though it was beamed in from the future. With your foot on the brake, a push of a power button starts the car – it's a keyless ignition.
Or is it? The Prius ignites with such silence, you wonder if it's really good to go. A ready light confirms that you are set.
The next steps feel like you're playing a video game. A small joystick-like shifter lets you manoeuvre the car into drive or reverse. A rectangular button, rather than a notch on the shift lever, puts it into the parked position. A multi-information touch screen continuously updates fuel consumption and a colourful graphic shows when you're running on gas, electricity or both.
When scooting leisurely around the city or in stop-and-go traffic, the Prius can run off its electric motor, reserving fuel and fumes for livelier times such as making it to a lunch date when you're late or hanging tight in the left-hand passing lane on the highway.
Despite being a hybrid, the Prius does have pep once rolling. Just don't try to race anyone at a stoplight – well, maybe a cyclist. Expect to go from 0 to 100 km/h in about 10 seconds; but if you're driving a Prius, hugging trees probably matters much more to you than speed.
That electric motor serves double duty, powering the car in slow-moving situations and doubling as a generator. When coasting or braking, the electric motor captures the energy that would normally be lost as heat through the brakes and transforms it into energy to charge the battery.
For Rosemary Speirs, an environmentalist who has owned a first-generation Prius and now drives the second-gen car, it's not about the design but rather the numbers. "I bought the second (generation) Prius because it offered even better fuel economy and reduced CO2 emissions," she says.
"I think a buyer who is looking for the best environmental car, and the biggest gas savings, still would turn to the Prius," says Speirs, the president of Ontario Nature. "I wouldn't have gone out and picked the car for its design ... but I do like it."
Inside, the five-door "lift back" (that back door causes some sore blind spots), there's room for five, but it's best for four. Space is generous; just ask David Cooper whose 6-foot-6 son Cody comfortably fits in the driver's seat of a 2004 Prius.
Cooper, a Toronto Star photographer, bought the car on a whim – and for its "wow factor" – back when Toyota couldn't keep them in stock. He estimates it has cost $4,000 to drive it the 110,000 kilometres on its odometer, compared with about $15,000 for his Ford Explorer.
"When I bought it, I liked the look of the car, I liked the distinctiveness of it," Cooper says. "Today, though, if I was buying a hybrid, I'd buy the Camry. It's a sporty and cool-looking sedan."
And that seems to be the future of hybrids in Canada: mainstream-looking family cars are the new need – and want – tied into one.
---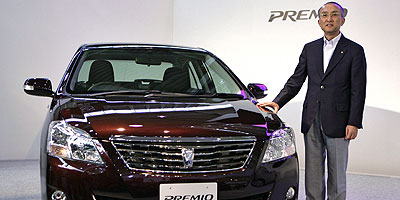 New Toyota aimed at Japan market
June 4th 2007.
TOKYO – Toyota Motor Corp. on Monday launched a new mid-sized sedan for the Japanese market, saying it hoped to stem sliding sales in the segment.
Japan's top auto makers earn the majority of their profits abroad, but as the domestic market leader with a share of around 45 per cent, Toyota has not let up on new model launches despite an exodus of customers to 660cc minivehicles built mainly by Suzuki Motor Corp. and Daihatsu Motor Co.
Japan's market for non-premium sedans has plunged from nearly 200,000 units in the early 1990s to fewer than 50,000 last year on the growing popularity of minivehicles, minivans and crossovers.
"I don't expect this segment to grow but we're hoping that the launch of attractive products would at least help it from shrinking further," Toyota president Katsuaki Watanabe told reporters at the launch of the Premio and Allion – variations of the same car sold through different sales channels.
Toyota is targeting monthly sales of 3,000 units for each model.
Toyota's sales remain robust in most overseas markets but are succumbing to weak demand at home. For the first five months of this year, sales fell 9.5 per cent to 698,688 units as the overall market for non-mini vehicles contracted 8.3 per cent for the 23rd straight month of decline.
Watanabe said, however, that Toyota was sticking to its plan to increase parent-only domestic sales by 1 per cent to 1.72 million units in the 2007 calendar year for now, placing its hopes on a slew of model launches in the latter half of the year.
In contrast to its performance at home, Toyota continued its push into the United States – its single-biggest market – where it beat the industry with a 9.7 per cent rise in May as higher petrol prices spurred demand for the Prius hybrid and other fuel-efficient cars.
Sales of the Prius, for which Toyota has boosted production capacity by 40 per cent this year, spiked almost 185 per cent in the United States last month.
The hybrid powertrain has not proven to be an automatic hit for all models and automakers, however.
Honda Motor Co., the number 2 maker of gasoline-electric vehicles, confirmed a weekend report in the Nikkei business daily that it would drop the hybrid option from its popular Accord when it remodels the car later this year.
Japan's second-biggest automaker sold just 6,152 units of the gasoline-electric Accord, available only in North America, in 2006, against an annual sales target of 20,000 units.
Honda's plan is in line with a strategy it laid out last year of mounting the hybrid system only on smaller cars such as the Civic and offering a clean diesel engine as an alternative to petrol-driven models for larger vehicles.
Toyota's global hybrid sales top 1M
June 7th 2007.
TOKYO — A decade after the first Prius went on sale, Toyota's global sales of hybrid vehicles have hit a landmark 1 million, underlining the Japanese automaker's lead in "green" technology that has changed the face of the auto industry.
Toyota Motor Corp.'s cumulative sales of gas-and-electric-powered vehicles totaled 1.047 million as of the end of May. Of those, nearly 345,000 hybrids were sold in Japan, while 702,000 were sold abroad, the company said in a statement Thursday.
Sales of Toyota hybrids have climbed from just 18,000 in 1998 to 312,500 last year, the company said.
Demand for hybrids, which deliver superior mileage by switching between a gasoline engine and electric motor, has soared amid higher fuel prices and greater consumer concern about pollution and global warming.
Toyota's dominance in the category has driven Detroit's automakers to follow with their own versions and to rely less on lower-mileage SUVs as the main engine for their profits.
"Toyota is clearly ahead of the pack in hybrids," said Tsuyoshi Mochimaru, auto analyst with Deutsche Securities in Tokyo.
The Prius is the overwhelming leader in the category, with a total of 757,600 units sold since its 1997 introduction in Japan. Toyota began selling the Prius in North America, Europe and other places in 2000. Last year, the model made up more than 40 percent of hybrid sales in the U.S.
The Prius, which gets 55 miles a gallon on combined city and highway driving conditions, has been enormously popular as a mid-size sedan, a best-selling vehicle category.
Although most automakers are working on hybrids, Toyota has the advantage of almost 10 years of experience in selling the technology, and in using feedback from drivers to make improvements, rather than relying on information from labs.
Toyota has placed a large emphasis on hybrid technology: It offers several other hybrid models, including the hybrid Camry and hybrid Lexus models.
"Hybrids will play a key role throughout our lineup," Toyota spokesman Paul Nolasco said. "That means all vehicle categories."
The company also started domestic sales of its most expensive hybrid, the 15 million yen — or about $124,000 at current exchange rates — Lexus LS 600h. It will be exported over the summer, according to Toyota.
Not all hybrids sell well. Earlier this week, Honda Motor Co. said it will discontinue the hybrid version of its Accord sedans, which sold poorly because it didn't fit the customer demand profile of the smallest, least expensive hybrids with the highest gas mileage.
Hybrid sport-utility vehicles have struggled in sales compared to the Prius, partly because an SUV doesn't have a green image to start with, analysts say.
Sales of Toyota's RX400h hybrid SUV, sold as the Harrier in Japan, have reached 85,000 worldwide since it was introduced in 2005. Another hybrid SUV, the Highlander, or Kluger in Japan, has sold 67,000 over the same period.
The Prius, by contrast, has sold 478,800 units since the start of 2005.
Among American automakers, Ford Motor Co. has the hybrid Escape sport-utility vehicle and General Motors Corp. sells the hybrid Saturn Vue Green Line sport-utility vehicle and hybrid trucks.
GM has also promised four new hybrids this year, the two-mode gas-electric systems in the Chevrolet Tahoe and GMC Yukon large sport utility vehicles, and hybrid systems for the Saturn Aura and new Chevrolet Malibu sedans.
Yasuaki Iwamoto, auto analyst with Okasan Securities Co., said that rivals will have a hard time catching up to Toyota in hybrids — and that the technology will play a key role in defining Toyota in the years ahead.
"Ecological features are going to be very important for building Toyota's brand image amid intensifying competition, and Toyota will continue to push the hybrid to the forefront," Iwamoto said.
Toyota has repeatedly stressed that the hybrid holds more potential than the diesel or other innovations.
Iwamoto said it remains unclear what will be the dominant ecological technology in 20 years time, however.
"No one knows what will become the standard, or even if there are going to be several types of technology that will become the standard," he said.
The next innovation in hybrids is expected to come from a new type of battery, called the lithium-ion battery, which will be smaller and lighter than the nickel-metal hydride batteries Toyota now uses for its hybrids.
A major breakthrough is needed to switch to lithium-ion batteries, now widely used in laptops, to make them power cars.
Mitsuo Kinoshita, a senior Toyota executive, recently denied Japanese media reports that Toyota had given up on having a lithium-ion battery system for the next-generation Prius.
"We're still working on it," he told reporters.