Converting Hybrids into Electrics - Toronto plugs into hybrid car trend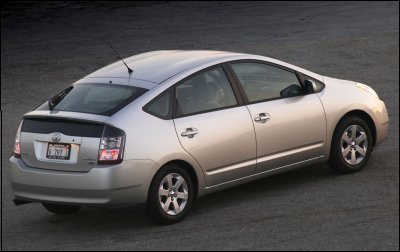 Toronto plugs into hybrid car trend
Toronto to launch pilot project with cars that can be charged from any wall socket
May 24th 2007.
Mayor David Miller will announce this morning an ambitious initiative to convert hybrid vehicles in the city to "plug-in" models that can be charged from any wall socket and powered mostly from electricity, the Toronto Star has learned.
The aim of the project – called the Toronto Plug-In Hybrid Vehicle Pilot Project – is to prove that hybrid vehicles, when equipped with larger batteries that can be charged from the grid, can operate in an urban setting on a single charge for more than 50 kilometres with little need for gasoline.
Down the road, the vehicles could also serve as mobile backup power stations, able to provide emergency electricity to homes during a blackout or be plugged into the grid en masse during the day to supply peak power and prevent blackouts.
It's a far-out idea, but one utility in California is already studying the possibility of motorists selling surplus electricity from their cars back to the grid.
"By boosting the all-electric range of hybrid vehicles, this technology has the potential to help us address one of the largest climate and air-quality impacts in the city," Miller states in a draft media release obtained by the Star.
The announcement comes on the heels of an international meeting of mayors last week in New York City, where a number of municipal climate-change initiatives were announced and a "green city" competition gathered momentum.
During the first phase of the Toronto project, 10 vehicles – eight Toyoto Priuses, one Honda Civic Hybrid, and one Ford Escape Hybrid – will be converted and driven for a year under urban driving conditions.
Car sharing network AutoShare, for example, will have a hybrid plugged in at one of its city parking spots, so members can test drive it in dry, wet and snowy seasons.
Other organizations contributing a hybrid vehicle to the project include "green" electricity retailer Bullfrog Power, Toronto Hydro, the University of Toronto, York University, architecture firm TAS Designbuild, and the Ontario ministries of transportation and environment.
The plan is to expand the project in 2008 to as many as 200 vehicles, contingent on funding.
"I would be quite keen to take this to the general public," said Philip Jessup, executive director of the Toronto Atmospheric Fund, which spearheaded the project. "First we have to demonstrate the technology is viable, that it works on Toronto streets and in our winters, that the system is safe, and that there's significant potential environmental benefits. Then we go from there."
A number of other municipalities are experimenting with hybrid vehicles to battle rocketing gasoline prices while dramatically reducing emissions.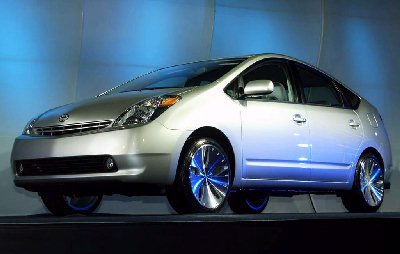 New York, for instance, is planning a downtown congestion charge and this week announced it will convert its taxi fleet to hybrid vehicles within five years, a move Toronto is so far reluctant to match.
But experimenting with hybrids that can be charged from a power outlet, an approach New York, California and a number of major U.S. cities are also exploring, could prove more effective in the long term.
Conventional hybrids are powered primarily by a gasoline engine, aided by an electric motor – battery packs recapture energy otherwise lost in braking and decelerating, but cannot be recharged any other way.
Plug-in hybrids, on the other hand, are powered primarily by an electric motor, with some assistance from a gasoline engine. Their battery packs are recharged by plugging into a standard 110-volt wall outlet.
It's expected plug-in hybrids will get double the gas mileage of conventional hybrids. Driving a kilometre on electricity instead of gasoline is also much cheaper, and is likely to become cleaner over time as Ontario phases out its coal-fired plants.
The Toronto Atmospheric Fund, a city agency providing funding for the project, estimates the retrofitted vehicles will see a 40 per cent drop in their carbon dioxide emissions, growing to 60 per cent once all coal facilities are closed.
University of Toronto students and faculty will gather performance data from the vehicles to determine precise emission reductions and fuel-mileage improvements. The data will be compared with other U.S. cities conducting similar projects.
Concord, Ont.-based Hymotion, recently acquired by A123 Systems Inc. of Watertown, Mass., will do the retrofits and install battery packs based on A123's advanced lithium-ion battery technologies. The companies are also working with General Motors on its plug-in hybrid development program.
Ricardo Bazzarella, president of Hymotion, said the retrofitted cars can travel 100 kilometres on 2.4 litres of gasoline.
Once time-of-use electricity pricing becomes more widespread in the province, drivers will be able to charge their vehicles overnight while they're asleep and when power prices are at their lowest, he said. The extra battery pack, while pricey today, is expected to fall significantly over the next few years.
Greg Kiessling, executive chairman and founder of Bullfrog Power, contributed his corporate car – a Toyota Prius – to the project because of what he calls a "perfect fit" for electricity produced from renewable energy such as wind and water.
But some observers say the idea, while worth exploring, isn't necessarily supported by the technology, at least not yet.
"The battery technology has a long way to go," said Barry Bower, a petroleum analyst with the Ministry of Energy. "And it's got a lot further to go in Ontario, where we have this little thing called winter." Batteries, he added, don't like the cold.
---
Toyota Previews FT-HS Concept Car: Sports-Hybrid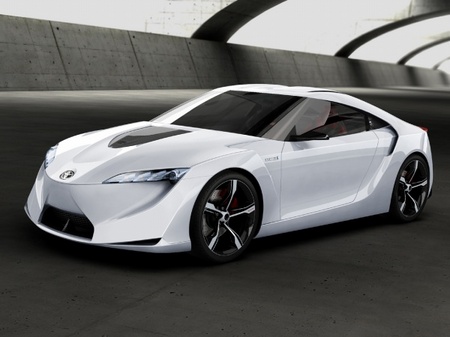 Toyota appears hell bent on re-establishing its credibility among enthusiasts. With the euthanizing of the Supra and MR2, there's been little in the automotive juggernaut's stable to quicken the pulse, but recent announcements like Lexus' forthcoming "F" lineup should help reinvigorate the brand with driving aficionados. As should the FT-HS Hybrid Sports Concept previewed here.
Slated to debut on Sunday, January 7 at the North American International Auto Show, the HSC is expected to be a 400+ horsepower hybrid concept sports car. Designed by Toyota's Newport Beach, California studio, the 2+2 boasts a 3.5-liter V-6 yoked to a 650-volt water-cooled motor, and a retractable roof.
And while the concept makes extensive use of pricy materials like carbon fiber and aluminum, the FT-HS is expected to portend a toned-down production variant. There's some debate about what segment said vehicle would play in, as well as name and cost, but Toyota says it is fantasizing about projecting a price tag of around $35,000 and a 0-60 mile-per-hour time of around 4 seconds. Whooeeey.