Toyota Camry Hybrid 2007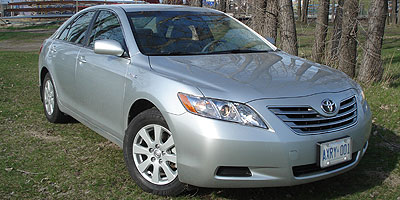 Greener Camry fits young urban buyer as much as it does family in the burbs
May 5th 2007
It's a rite of passage, I thought at first, to upgrade to a family car. We're getting older. We don't go clubbing anymore. Instead, we go to expensive restaurants and splurge on wine from 1996 that we think will compliment our osso bucco.
2007 Toyota Camry Hybrid
Price: base/as tested: $32,000
Federal rebate: $1,500
Engine: 2.4-litre DOHC four-cylinder
Power: 187 hp
Fuel consumption: city 5.7, hwy. 5.7, as tested, 7.5 L/100 km
Competition: Honda Accord Hybrid, Volkswagen Jetta TDI, Saturn Aura Hybrid
What's best: fuel consumption, reduced emissions, mainstream looks
What's worst: Limited cargo space, less go off the line, Camry stigma
What's interesting: This mid-sized hybrid is as fuel-efficient as the sub-compact Yaris
Ultimately though, I thought you were too young, urban, upscale and stylish for a Camry.
Until I drove the Camry Hybrid and pretended, for a week, that I owned it.
The Camry is the Toyota that's bringing hybrid technology to the mainstream.
Simply put: It's doing your small part for the environment without wearing your green pride on your sleeve.
Discretion is assured with the Camry Hybrid. There are a few giveaways that your ride isn't just a regular Camry. A "Hybrid" badge sits atop each front wheel. A metal-plated grille and unique headlamps (only a diehard Camry fan can tell the difference) up front and a small "Hybrid Synergy Drive" emblem at the rear are the only other clues.
Like the Prius, there's a start button rather than a key hole. And the car ignites without a peep, which is why you need to doublecheck that "Ready" light on the instrument panel.
The best part about the hybrid Camry is that you don't have to give up a lot of power or amenities to be eco-chic.
Toyota boasts that its traditional Camry, fitted with a gasoline V6 engine, and the hybrid, go head-to-head in terms of performance. The hybrid is fitted with a 2.4-litre four-cylinder gasoline engine and an electric motor for an output equivalent to 187 horsepower.
But it feels much different. The 3.5 L V6 Camry makes 268 hp and 248 lb.-ft. of torque. Motor Trend magazine says that the gas-powered car can go from 0 to 96 km/h in 6.1 seconds. Toyota says the hybrid version takes 8.9 seconds to get up to 100 km/h.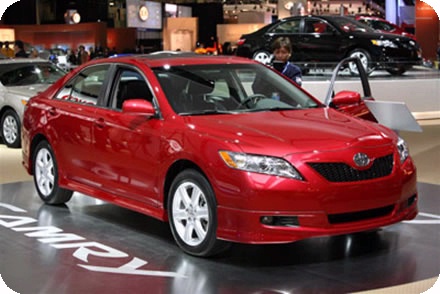 If you're shopping for a mid-sized family car that goes fast, you'll probably want to steer clear of the Camry Hybrid. Off the line, it's slow – although not as slow as the Prius. Once it is off to a good start, however, you hear the gas engine kick in and it's got a good boost of passing power for the highway.
Unlike the Prius and the Lexus RX 400h, the transition between gas and electricity is flawless. The only way you'll know if you're motoring along under power of the gasoline engine or electric motor, or both, is to check the centre of the speedometer. (I prefer, however, watching fuel consumption graphs go up and down on the big screen in the Prius.)
The ride and handling are land-yacht-like and typical of what you'd expect from a Camry. This is a car you buy because of its practicality as a fuel-efficient vehicle with room for five, not for the thrill of the ride.
When it came to the trunk space, I got a little nervous for you. A baby travels with a large entourage of stuff, and the battery setup for the hybrid takes up a lot of cargo space. The hybrid gets 300 litres of storage room, while the non-hybrid gets nearly a third more: 425 litres.
Inside the cabin, there's no compromise. Two sit comfortably up front, fabric seats are standard but leather is available with the B Package ($3,680), which also includes heated chairs, a power-adjustable passenger seat, power sunroof and illuminated vanity mirrors.
There are lots of standard goodies, too. Count power door locks, driver's seat, heated and powered mirrors, cruise control and a smart key that's fitted with a sensor to unlock the door while the key is still in your pocket. There's also an electric air conditioner that functions even when the engine is turned off.
The third row generously provides room for three and a trio of head restraints. The bench chair splits and folds 60/40, which is useful despite that battery hunkered down in the trunk.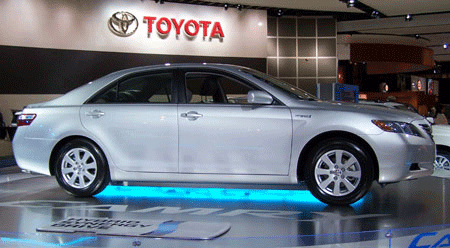 Perhaps the best part of the test week in the Camry Hybrid was never having to stop for gas. After 500 km of everyday driving, I still had about 230 km worth of fuel left in the 65-litre tank. That's more than 700 km on a single tank of gas.
And, get this: For once, a hybrid is a better deal than its fuel-consuming counterpart. The Camry Hybrid starts at $32,000 (not including the $1,500 federal rebate). The XLE V6 is $37,525, although, in fairness, the gas-powered four-cylinder Camry starts at $25,900.
There's more to the story than thirtysomethings buying Camrys. It's the young, the urban and hip buying into a hybrid lifestyle.
The hybrid family sedan is the "It" vehicle of the moment – for all ages. And it's here to stay.