Saturn Aura 2007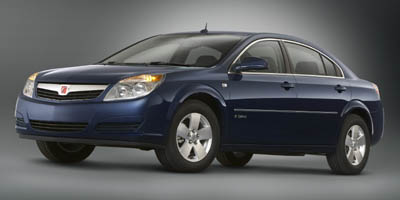 2007 Saturn Aura Green Line
The Longest Street in the World lost its title a few years ago, but it still taxes a fuel-sipper's economy.
April 7th 2007.
Toronto is crammed with snobs, the CBC, legendary DVP traffic jams, suburbia ad nauseam and a long-suffering NHL team.
I'm sorry. I can't help but have these prejudices.
You see, to someone who was born, raised and currently living in Ottawa, this is my Toronto. And it's one of the reasons why I got this new gig writing for the esteemed publication you're currently reading.
As it stands, I'll be the only regularly contributing Wheels journalist who doesn't have either 416 or 905 preceding their phone number. Accordingly, my non-GTA address will allow me to observe from afar, and offer automotive wisdom to Torontonians that only an outsider can achieve.
At least, that's the plan.
So to ingratiate myself to my new Hogtown driving constituents, I was asked, i.e. told, to drive the so-called Longest Street in the World, starting from the Toronto Star tower at One Yonge St., continuing through Toronto and the York Region to Barrie and apparently ending in Rainy River, at the Ontario-Minnesota border 1,896 km away.
Beyond my hundreds of travels to Tee-Oh since my first pee-wee hockey tournament (where we slaughtered the Agincourt Canadians, by the way), this will be a trip of firsts: my first drive up Yonge St. proper; and the first Canadian journalist to drive Saturn's new Aura Green Line hybrid, a type of car I've admittedly also held a few biases against.
Like its two main competitors, the also similarly new Nissan Altima and Toyota Camry hybrids (the Honda Accord Hybrid's 253 hp V6 and $38,090 price put it in another league), the Aura Green Line takes the stealth approach in presenting its revolutionary functionality in a conservative, family-sedan form. Although I did draw a few inquisitive looks from those who spotted my Berry Red Aura's green "Hybrid" badges.
The Saturn has both a 2.4-litre four-cylinder gasoline engine and an electric motor-generator, but engages its electric motor for extra urge only when called upon.
Unlike the Nissan or Toyota, which can motor solely on battery power for a short time – hence the better city fuel consumption ratings – the Aura Green Line can't giddy up on its electric juice alone.
It's what parent General Motors calls a "mild-hybrid," the same system found in the Saturn Vue cute-ute. Applied to the bigger Saturn sedan, it's rated at 164 horsepower, 159 lb.-ft. of torque and notably mated to a standard four-speed automatic, not a CVT like the Altima or Camry.
With fuel consumption forecast at 8.5 L/100 km in city driving and 6.2 highway, Saturn says the Aura Green Line gets 25 per cent better mileage than a standard $24,990, 224 hp V6 Aura XE, yet the Green Line costs only $2,300 more.
Saturn Aura Green Line
Price: base/as tested $27,290/$27,290
Federal rebate/penalty: No
Engine: 2.4-litre four-cylinder gasoline
Power/torque: 164 hp/159 lb.-ft.
Fuel consumption: (L/100 km) city 8.5, hwy 6.2, as tested 9.7
Competition: Toyota Camry Hybrid, Nissan Altima Hybrid
What's best: Good value, nice balance between ride and handling, low profile
What's worst: Some quirky cabin ergonomics; where's the wagon?
What's interesting: Is this the hybrid for drivers?
Putting aside the slide rules and abacuses, how would the Aura Green Line stand up to a real, everyday Hollywood North commute? Did Saturn's desire for parsimonious fuel efficiency remove any of the regular-strength Aura's already well-known capabilities as a driver's car, as it's based on the Euro Opel Vectra?
With the Aura's trip computer indicating 612 km to go before my tank of regular 87-octane gas would be empty, the thinking was I could get to Rainy River on four tanks, with some to spare.
Twenty minutes into the drive and I've already passed all-too familiar Toronto the Good landmarks like the Hockey Hall of Fame, (been there), and the Eaton Centre and Dundas Square (done that). The 12 km/h, stop-and-go pace only highlights all the efforts the Aura goes though to save precious fossil fuel.
Like most other hybrids, the Aura Green Line shuts down its gas engine when you decelerate or come to a stop. Initially off-putting, after awhile, you get used to the silence at lights and the guilt-free knowledge that you're not wasting fuel idling.
It's taken me 45 minutes to cross under the 401, heading into North York, where traffic comes to a crawl again. The Saturn's trip computer numbers aren't very encouraging. I've only managed 15.2 L/100 km fuel consumption, averaging 17 km/h. So much for saving the planet.
Beyond North York, Yonge St. looks like every other four-lane, suburban boulevard in Canada. Until you get to picturesque Richmond Hill in which, by the amount of GTA folk I know who claim to live here, I was expecting more than the 162,704 official residents.
Next up was Newmarket, where it had taken more than 90 minutes of driving before a legal 80 km/h traffic zone first appeared. Wahoo!
The Saturn can't match its competitor's full-hybrid consumption ratings. But then its $27,290 base price undercuts the Camry and Altima hybrids significantly by $4,610 and $5,708 respectively, allowing Saturn dealers – later in May – to have the lowest priced mid-size hybrid sedan on the Canadian market.
The Aura Green Line also delivered a comprehensive feel to its steering and handling, without the expense of a harsh ride. The only driving negative is that the tranny needs more gears to match the engine's smoothness.
Two hours, 35 minutes and 90 klicks after leaving the Star, I suddenly learn that Yonge St. ends in Barrie. And rather unceremoniously at that, at a T-intersection with Essa Road.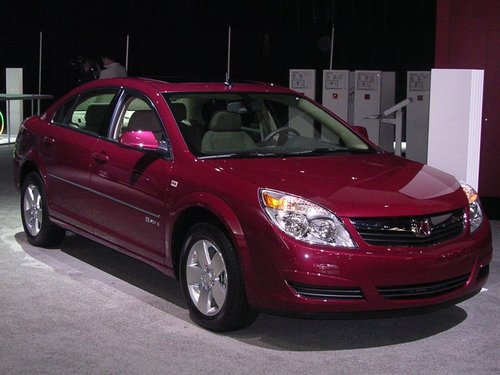 No banners, no historical plaque. Just a gas station on one corner and a strip mall with a Chinese food restaurant on the other.
Apparently, Yonge St. lost its Longest Street in the World crown to the Pan-Am Highway back when ol' Mike Harris split the highway budgets between Yonge St. and Hwy. 11 in 1993. Yonge now officially ends about 1,806 km shorter in Barrie.
It's just as well I never booked the Rainy River motel room (cable TV and air conditioning included!).
A phone call to my new editor let him know he'd be getting his story early, and then it was a shorter-than-anticipated drive home to Ottawa.
Regardless of the less-than-challenging driving, the Saturn Aura Green Line wasn't the fuel economy penalty box I had anticipated.
Ending up with a respectable 9.7 L/100 km for the trip, the Aura was luxury-car quiet either in downtown traffic or through the rolling countryside closer to Barrie.
The combination of the Saturn ride and the brief drive up the former Longest Street in the World may have erased a few of my intolerances.
But take this from the other Centre of the Universe: the Leafs still suck! (Ed. Note: Not as much as the Senators.)