Pink Taxis in Moscow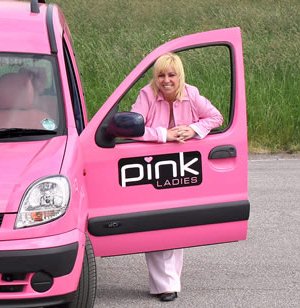 Girl Power in the Form of a Pink Taxi
January 2007.
By David Nowak
It's 3 a.m. A girl -- pretty, drunk, wearing a bit less than might be prudent -- stumbles out of a club. She hails a cab and voila, three Ladas line up to give her a ride.
Within no time, the driver has agreed on a price, and off they go. What happens next, said police spokesman Vladimir Korobkov, is not unheard of: In tatters, cold, bleeding, the girl wakes up in a park a couple hours later, having been drugged and raped. She's lucky to be alive.
Admittedly, Korobkov said, these cases are rare. But not that rare, even among established cab companies.
Now women who are tired of predatory taxi drivers -- whose behavior ranges from flirtatious to violent -- have a new way home.
Pink Taxi is a Moscow service run by women for women. Not only does the company guarantee a safe ride, Pink Taxi drivers also offer advice, share gossip and make a concerted effort to lift their passengers' spirits.
Passengers say they're never going back to male cab drivers.
"I don't know where to start," said Olga Kuznetsova, 34, a mother of three who travels with her kids in Pink Taxis at least twice a week. "The male drivers smoke, spit, play loud music, and generally don't give a damn about the comfort of the passenger."
Olga Fomina, 34, Pink Taxi's general director, explained their success. "By mobilizing women, we are solving the safety problem they run into in taxis," she said.
Fomina and two girlfriends launched the cab service in August. All three women had been working in real estate but had grown tired of their jobs.

Business has been growing almost from Day One.
In August, Pink Taxi received just 20 calls. Today, the company averages 140 calls per day. Alas, demand is outstripping supply: The company can only answer 70 of those.
As business has boomed, Pink Taxi has diversified its services. It now picks up kids from school, buys and delivers flowers, and even takes care of the weekly run to the grocery store.
Still, the company has yet to outgrow its original corporate headquarters -- a couple of cramped, wood-paneled offices in an industrial park on the fringes of eastern Moscow.
"Before we created the company, everyone was so skeptical about the idea," Fomina said, adding that male friends poked fun at it.
Fomina was a bored real estate agent in January 2006, when she heard a radio dispatch on women-only taxi services in London and Tokyo. Pooling their resources, Fomina and her two friends launched Pink Taxi.
In the beginning, the company's "fleet" of taxis, as Fomina put it, comprised two Daewoo Nexia cars; they had two female drivers.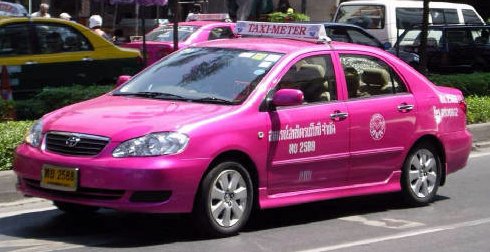 Six months later, they have 20 Daewoos and 27 drivers. Soon, the company will replace its cars with Volvo S40s. Barely containing a smile, Fomina said: "We're going strong."
She stressed that the passengers weren't the only ones in need of a helping hand.
Pink Taxi's drivers -- all female -- have been to university and are aged 27 to 55. Fomina noted that for many in their mid-thirties it's tough to find work. "After having kids, what is there for a woman to do?"
Pink Taxi's success appears to have prompted competition.
In November, Ladies Red Taxi, based in Khimki, opened. The company is getting 50 calls daily, and most of that call load comes from foreign women, said Oksana Bolshakova, the company's deputy director.
With a fleet of 10 Chevrolets, 20 female drivers aged 27 to 45 and similar, slightly above-market prices, Ladies Red Taxi has had to differentiate itself from Pink Taxi by marketing to both women and men.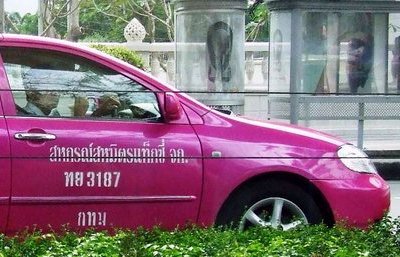 Despite the women cab companies' recent success, shuttling Muscovites around town is still very much a man's business. There are fewer than 100 professional female cab drivers in Moscow out of a total of 3,500. New Yellow Taxi, Moscow's biggest cab company, with a fleet of 1,500 cars, has just 15 female drivers, said the company's marketing director, Edvard Mkhitaryan.
Besides the professional cabbies are the 40,000-plus gypsy cab drivers, noted Yury Sveshnikov, director of the Moscow Transportation Union. Gypsy cab culture tends to be tougher and scrappier and is dominated by men from the Caucasus and Central Asia.
Indeed, gypsy cab driver Vyacheslav Sokolnikov is against women driving at all. "They slow down traffic," he said, "and they don't have the necessary coordination to drive a car."
Women cab companies' executives laugh off the charge that women shouldn't be driving taxis, but their arrival on Moscow roads are raising questions about discrimination and women's rights.
"What if a guy urgently needs to get somewhere, and there are no other options available?" asked Korobkov, the city police spokesman.
New Taxi's Mkhitaryan said: "Yes, I think Pink Taxi is a good idea. But then, communism was a good idea, too."
Prominent feminist Maria Arbatova shrugged off the criticism.
"The labeling of a taxi service for women as sexist is paramount to calling a female restroom sexist," Arbatova added. "The absence of such services was a manifestation of sexism."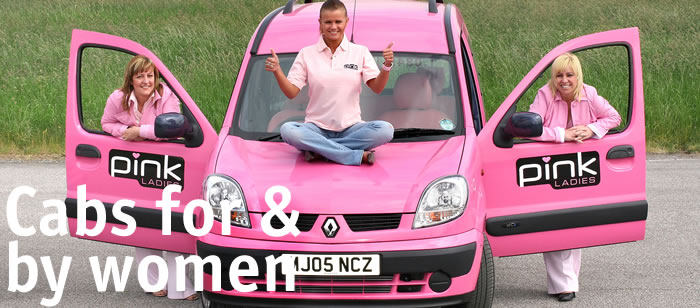 UPDATE!
October 7th 2013.
Pink Taxis is still growing strong years later. I think it is a testament to their marketing strategy and their focus on building a niche market that works really well.
Click here to learn more about innovative marketing strategies.