The Nano Car Revolution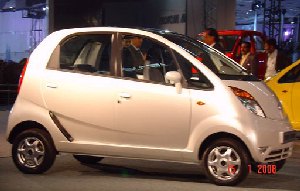 Small Cars & the Future
By Andrew Wyatt - 2008.
Tata Nano is changing the way we think about small cars, and selling cars.
For instance, you don't need to sell your cars in the United States to be profitable. Indeed the Tata Nano is designed and marketed for a non-American audience.
The launch of the Tata Nano and the flurry of investments announced by Indian company Tata Motors and global auto majors over the last one year, promises to unleash a small car revolution, push down prices around the world and dramatically increase the number of vehicles on the road. Small car sales are leading the way overseas and the new darling of the industry is Tata Motors' Nano.
Its small size is only part of the reason to buy it. The price and its fuel economy is the 2nd, selling for approx. $2500 US or 1700 Euros, not including fees or delivery.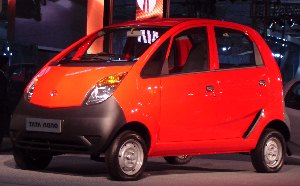 The concept from the beginning was to design a car which costs 1 lakh (1 lakh = 100000 rupees) to buy, because most families in India (now one of the hottest economies in Asia) still can't afford a 4-door car. The second goal was to build a reliable car that was easy to fix.
The car was designed at Italy's Institute of Development in Automotive Engineering where they managed to design the car with 21% more interior space and an 8% smaller exterior, when compared with its closest rival the Maruti 800. It is not available yet however. The car is expected to be produced in the Singur plant in West Bengal, which is currently under construction. The initial production target set by Tata Motors is 250,000 units per year.
The designers saved space by placing the engine in the rear (similar to the Fiat 500, the Smart Car and the BMW Mini). The motor itself is quite small and has only 33 horsepower, which saves on space but lowers its top speed to 105 km/h (65 mph). It was designed for city dwellers who rarely need to go faster than 80 km/h. Its 0-60 time is dismal 11 seconds, but that is not the point is it? Its fuel economy is an amazing 26 km/litre (or 61 miles/gallon)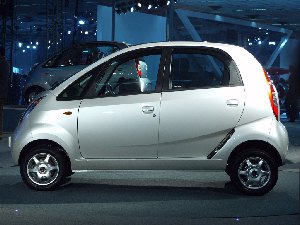 What you have here is a car designed specifically for the impoverished people of Asia and Africa, which is affordable, economical and thanks to its very simple design is easy to fix and maintain. It is like a Volkswagon Beetle for the 21st century.
With soaring oil prices it is a prudent measure for the automotive industry to pursue building more small cars, but what about 5 years from now when gasoline prices become intolerable?
Right now oil prices have touched $115 US per barrel, but oil analysts are estimating that price to double in the next 5 to 10 years as resources become more and more scarce thanks to China/India's booming economies and their demand for more oil.
Small cars may be the direction to go for now, but it seems to me that Tata Motors should also be thinking farther ahead to a time when the rest of the world will be wanting to switch to hydrogen fuel.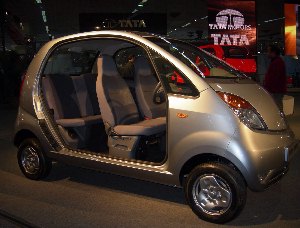 Building a Revolution
Building a cheap small car is harder than it sounds. A lot of it relies on outsourcing parts construction to smaller companies and the efficient use of cheap labour.
Automakers in North America often rely on unionized labour and the result is cars that are overpriced, designed to impress buyers with their size/luxury or supposed safety (SUVs have surprisingly high fatalities and yet are marketed as safe passenger cars). The SUV industry in America is slowing as high oil prices squeeze the middle class, but America's economy is so dependent on car sales that its economy falters every time American-built car sales dip.
And lately they've been dipping a lot.
Cheaper, smaller, more economical imports from China, Japan and Europe are flooding the American market with cheaper alternatives and American automakers are still trying to squeeze as many profits as they can out of the SUV industry. The longterm problem however is that they are closing down automotive plants, and focusing on the cars that do still make them profits (namely luxury cars, sports cars and SUVs).
The end result? Foreign control of regular car production. Take Toyota for example, which is actually opening new factories in North America, employs non-unionized labour, and is now the top 3rd automaker in the United States and Canada. Toyota is wisely thinking ahead by building smaller cars, building hybrid vehicles, and investing in new hydrogen technology.
Companies like Ford meanwhile are recording record losses and huge layoffs of workers. If this keeps up unionized labour in America will go the way of the Dodo and become extinct.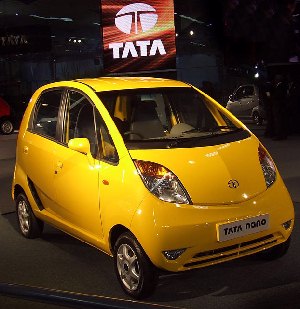 Nano Hypocrisy
Advertised as the world's cheapest car, the Nano is a no-frills automobile designed by Indian conglomerate Tata to be affordable for millions, possibly hundreds of millions, of people who are newly joining the middle class in India and elsewhere in the developing world. Such mass sales might overwhelm halting efforts to ward off catastrophic climate change. As Indians (and others) join the love affair with the private automobile, many in the West are suddenly aghast at the prospect of Nano becoming a household term like Chevy or Mercedes. The German weekly Der Spiegel termed it an "eco-disaster."
Indeed, transportation has the fastest growing carbon emissions of any economic sector. Proliferating numbers of automobiles are a key reason. More than 600 million passenger cars are now on the world's roads, and each year some 67 million new ones roll out of manufacturing plants.
But amid the finger pointing, let's remember who has driven the planet to the edge of the climate abyss. People in Western countries and Japan (less than 15 percent of the world's population) own two-thirds of all passenger and commercial motor vehicles in the world. Although they are rapidly expanding their fleets, India and China, with a third of the world's population, so far account for only about 5 percent of vehicles. In 2005, China's ratio of motor vehicles to population was at about the level the United States had reached some 90 years earlier. India's ratio is less than half that of China.
Westerners not only have far more cars, but the distances they drive are also 3—4 times longer on average than those of Indians and Chinese. The United States alone—where monster SUVs roam and driving is considered a birthright—claims about 44 percent of the world's gasoline consumption. Fuel economy has stagnated for a quarter-century as cars grew larger, heavier, and more muscular. In New York City a Nano might be joked about being a golf cart.
So if it's true that Asia's (and Latin America's and Africa's) teeming billions can't indulge in the same reckless habits as Westerners, then neither can Americans, Europeans, or Japanese. Delhi and Beijing know hypocrisy when they encounter it. Nonetheless, they have good reason to take action irrespective of what Western countries say or do. Residents of many Asian cities are exposed to a lethal brew of sulfur and nitrogen oxides, particulates, and toxics from motor vehicles of all stripes. Breathable air is every bit as important as climate stability.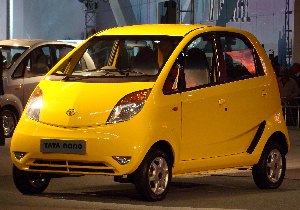 Leaner engines and cleaner fuels are essential. The Nano may well be a cleaner option than the highly polluting motorcycles, motor rickshaws, and diesel buses (and many of the Western-designed cars) already clogging India's roads. But the mass market that Tata is hoping for will render putative gains ephemeral.
All countries need to seriously rethink their transportation policies. Such an effort has to go far beyond the pursuit of alternative fuels and even beyond making cars more efficient. Denser cities and shorter distances reduce the overall need for motorized transportation and make public transit, biking, and walking more feasible. Those who will never be able to afford a car will have more options instead of being marginalized by the onslaught of private automobiles.
In a BBC World Service call-in debate, Malini Mehra, founder of the Centre for Social Markets in Kolkata, India, questioned those who regard car ownership a right. And Sunita Narain, head of India's Centre for Science and Environment, has pointed out that private motor vehicles "are providing transport only to 20 percent of people in Delhi." She called on Tata and other manufacturers to "provide solutions for public transport."
The change needed is more than a matter of technology. It requires questioning shortsighted personal choices by consumers who buy unnecessarily large or powerful vehicles, as well as confronting the auto and oil companies that derive enormous profit from the status quo.
However, at the same time we have to ask ourselves: If people are going to buy a car anyway, shouldn't they at least have the option of a car that has a better fuel economy?
After all not owning a car is simply not an option for some people. They have to get to work somehow and have kids to feed and transport. Relying on public transportation simply isn't possible for many people and hydrogen cars are still years away from mass production.
Tata to bring Nano to Europe in 4 years
Tata Motors plans to introduce its ultra-cheap Nano car to the European market in four years' time, the head of compact car projects at Tata Motors told German magazine Focus.
"We will develop a successor model in four years time, which will meet the Euro 5 emission regulations and the crash standards in Europe," Girish Wagh was quoted as saying by Focus in an advance abstract on Sunday.
The main target was to reduce the car's fuel consumption to three from currently five litres per 100 kilometres (62.5 miles), Wagh told the magazine.
Tata Motors unveiled the $2,500 Nano, the world's cheapest car, in January and said the new four-seater would roll out later in the year from its factory in the eastern state of West Bengal.
Tata has said it will initially produce about 250,000 Nanos and expects eventual annual demand of 1 million units.
Tata has said it would focus on the home market for two to three years before considering exporting the Nano to countries in Africa, Latin America and Southeast Asia.
Global car makers, initially sceptical that Tata could produce such a low-cost car, are now scurrying to make their own versions to meet the needs of cost-conscious consumers in emerging economies such as China, India and Russia.
General Motor's Opel unit plans to develop a small car for 8,000 euros ($11,590), the head of Opel, Hans Demant, told Germany's auto, motor und sport magazine in an advanced copy on Saturday.
A decision could be made next year, he said.
"The Opel citycar is a vehicle for the coming decade," he said.
Ford said in January it would build a small car in India within two years, and the alliance of Nissan Motor and Renault, which has made a big success of its no-frills Logan sedan, plans a $3,000 car with Bajaj Auto.
Volkswagen, Toyota, Honda Motor and Fiat have also said they are looking at small cars for emerging markets, where strong economic growth has for the first time made car ownership an option for millions.