Lexus LS 460 named World Car of Year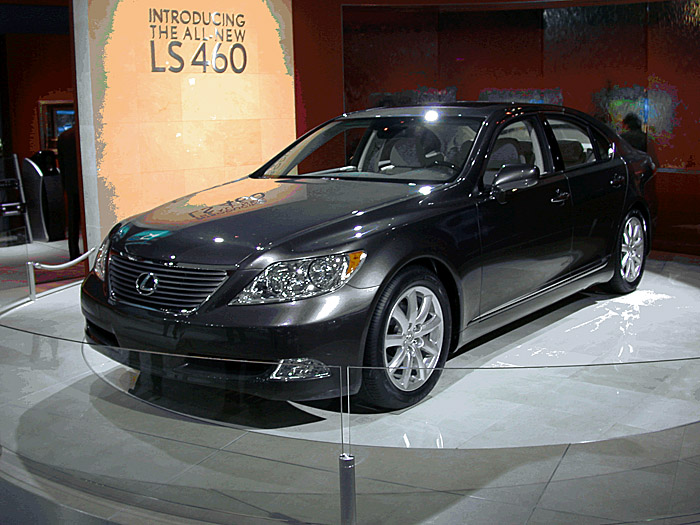 April 2007:
NEW YORK CITY–Culminating a nine-month process, the Lexus LS 460 was declared the 2007 World Car of the Year at a press conference at the New York auto show this week.
The selection process started last summer with a list of 28 entries, which was pared down to a short list of 10 semi-finalists in January.
Following a second round of voting by a jury of 44 automotive journalists from 22 countries, in which the candidates were graded on six separate sets of parameters, that group was reduced to three finalists in March: the Audi TT, Lexus LS 460, and Mini.
Peter Lyon, an auto writer from Japan and co-chair of the World Car of the Year organizing body, presented the award to Bob Carter, Lexus Group vice-president and general manager.
Lyon said the WCOTY jurors considered the LS 460 to be the embodiment of the Lexus brand's "pursuit of perfection."
Lexus continues to build its resumé with this luxury flagship, which is classically luxurious, with modern execution, unquestioned quality and more- than-ample power, he said.
"From the outset, it was our goal to develop a luxury flagship vehicle that would be recognized as one of the finest cars in the world," Carter said. "Awards such as this go a long way toward realizing our goal."
Three additional specialty award winners were also announced at the New York show.
The Mercedes-Benz E320 Bluetec is the World Green Car for 2007, with the BMW Hydrogen 7 and Volkswagen Polo BlueMotion as runners-up. The E320 Bluetec was chosen from an initial list of 14 contenders because of its role in enabling a diesel re-entry to the North American market and spreading superclean diesel technology around the world.
The Audi TT is the World Car Design of the Year, and the Citroën C4 Picasso and Fiat Grande Punto are runners-up. A panel of four world-renowned design experts developed a short list of five finalists from the 28 candidates for the overall reward.
The jurors lauded the new TT's design, noting that while there is a clear connection to the original TT's Bauhaus styling, the second-generation evolves it into a more modern form.
The Audi RS4 is the World Performance Car of the Year, and the BMW 335i and Porsche 911 Turbo are runners-up. Its choice, from a field of 17 contenders, requires no explanation – its performance speaks for itself.
To be eligible for the overall award, vehicles have to be on sale in at least five countries, on at least two continents.
The program was established officially in January 2004, and the first World Car of the Year, the Audi A6, was announced at the Canadian International AutoShow in Toronto in 2005. The 2006 winner was the BMW 3 Series.