The Hydrogen Equinox
Major Automakers are climbing on board the hydrogen highway
The Equinox Rocks Baby!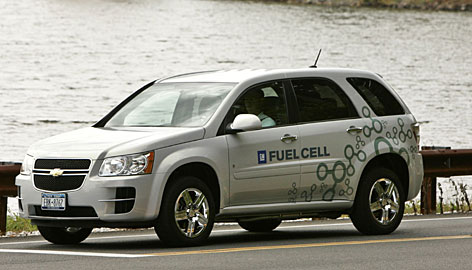 By Andrew Wyatt - November 6th 2007.
When you test drive a hydrogen car you are expecting to get let down. You expect it to be horrible.
I think it is because we know electric cars are crap, so we don't know what to expect when we sit behind the wheel of a car fueled by hydrogen. We tend to forget hydrogen is explosive and is the active part of gasoline. Remember the Hindenburg explosion? That was hydrogen power.
But instead hydrogen cars these days are becoming rather... ordinary.
They are getting to be so ordinary, so much like any other vehicle in the way they drive, that you start thinking you ought to just go get one. After all, they issue no pollutants because there is no carbon, and they go about twice as far as gasoline vehicles do on the same amount of energy.
The vehicles themselves use no petroleum (commonly called gasoline in North America), though producing the hydrogen requires electricity using processes like steam reforming and electrolysis.
I won't bore you with the technical ways hydrogen is made, collected and store. The point is that it is being done, and cheaply too.
Automakers' grand design is that energy suppliers eventually will make hydrogen using renewable energy such as biomass, hydroelectricity, solar, wind and even tides.
At its current stage fuel-cell vehicles are pretty expensive. They're still being tested. Even four years from now, when the first HFC cars will be in auto dealerships they'll still probably be more expensive than the regular cars. Thankfully the price is going to be government-subsidized leases instead of selling them outright.
As mass production comes into play the prices will drop dramatically.
Right now there are almost no fuel-cell vehicles are available, but it doesn't matter because there are almost no hydrogen filling stations anyway.
But that is about to change in 2008, which is to be a watershed year.
Honda has designed a new hydrogen fuel-cell car. It is a sleek, four-door, compact, front-drive sedan that it plans to lease to as many as 100 consumers in the USA next year.
General Motors, not to be out done, is distributing about 100 Chevrolet Equinox SUVs converted to fuel-cell operation to individuals for three months at a time over the next three years. They'll be parceled out around Los Angles, New York City and Washington, D.C., places where there are hydrogen fueling stations. It's called Project Driveway.
The Equinoxes will go to people considered influential, celebrities and politicians mostly.
But let's talk about the car itself.
Performance: Fast off the line, satisfactory at higher speed. Hydrogen-Electric motors have a delightful trait. They deliver all of the torque INSTANTLY. No revving required, the way you'd have to do in a gasoline engine only better. The car ends up feeling a bit like a racer. The transmission has but a single speed. No shifting. Just a continuing ramp of constant power.
Noise: Not much, and that's a big deal. You won't be able to show off how loud your engine is to your date. The early hydrogen prototypes had a whine sound but that has been fixed by installing a big, gutsy supercharger. That has practically eliminated the howl.
Appearance: Similar to the conventional, gasoline-fueled, 2007 Equinox with a couple of notable exceptions.

Instead of round tailpipes out back, the fuel-cell version has four rectangular slots in what car folks call the rear fascia. That's the part that looks like it's the bumper but really is just a plastic covering.

GM says they wanted to distinguish it from the gasoline vehicles.

Inside, trim and touches unique to the fuel-cell vehicles give it a premium look and feel compared with the gasoline Equinox, which is a bit disappointing inside in spite of the upgraded materials and controls.
Function and Safety: About the same as a gasoline model. The rear cargo area is compromised a bit because the third of three hydrogen tanks sits higher than the two in front of it, putting a horizontal bulge behind the rear seats, about where you might want space for beach chairs or big bags.

And in what might be contrary to popular belief, hydrogen almost certainly is a safer fuel than gasoline. If you spill gasoline at the filling station, for instance, it pools and the volatile vapors concentrate. If you spill hydrogen, it evaporates into the atmosphere at 40 mph because it's lighter than air.

Overall the Equinox was a fun ride. Handled like a regular car and I thought that maybe they were pulling a fast one on me. I had to check and make certain it wasn't a regular gasoline engine under the hood.

And that's a good thing.
---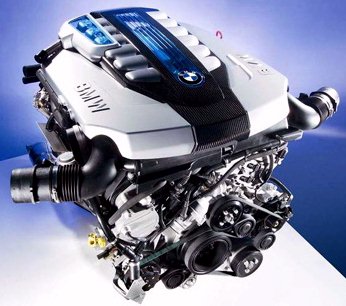 Major Automakers are climbing on board the hydrogen highway
Daimler and Ford Motor have set up a joint venture to pursue development of emission-free fuel cells for cars and trucks as an alternative to petrol engines.
The two carmakers have given the partnership momentum by buying Vancouver-based Ballard Power Systems' troubled automotive fuel cell business, including numerous patents and 150 employees.
Vehicles powered by hydrogen fuel cells emit only water vapour through their exhausts. Fuel cells are also far more energy-efficient than internal-combustion engines.
Buyt Casey Selecman, an analyst at CSM Worldwide, an automotive consultancy, cautioned that "there hasn't been a breakthrough technology yet to create the [required] economies of scale".
Daimler and Ford were previously shareholders in Ballard, which pioneered fuel cell development in the 1990s, but has struggled to come up with a commercially viable system for mass production.
It has so far produced only about 130 cars, trucks and buses.
John Sheridan, chief executive, said the sale "lowers Ballard's risk profile by addressing the realities of the high cost and long timeline for automotive fuel cell commercialisation".
A Ford spokesman said that "we can move much more quickly this way".
Daimler will own 50.1 per cent of the venture and Ford 30 per cent. Ballard will hold the remaining shares covered by a purchase or sale option agreement with Ford. Each of the three partners will contribute $60m to the venture.
Several other global carmakers are also pressing ahead with fuel cell research as part of their drive for alternative propulsion technologies.
Honda plans to reveal what it claims to be the first commercially available hydrogen fuel cell car at the Los Angeles auto show later this month.
The car, with a 300-mile range on a full tank and a top speed of 100 miles an hour, will initially be sold in the US and Japan.
Daimler said on Thursday that it expects fuel cell vehicles to be mass-produced, starting between 2012 and 2015. It plans to build a limited number of Mercedes Benz B-Class cars powered by fuel cells in 2010. Ford has a test fleet of 30 hydrogen-powered Focus saloons on the road.
BMW is pursuing technology that would use hydrogen as a fuel for internal combustion engines.
According to Mr Selecman: "The technology is getting better and costs are coming down, but it's still in the order of 100 times more expensive than an internal-combustion engine."
He added that plug-in hybrid-electric vehicles, such as General Motors' Chevrolet Volt, are "definitely showing more promise than a fuel cell right now".
GM has pledged to put the Volt into production by 2010.
Mazda unveils hydrogen hybrid car
Mazda has unveiled a new kind of hybrid vehicle today that runs on hydrogen fuel powering an electric motor. The Japanese automaker said it will be available for leasing in Japan next year.
The vehicle is powered by energy produced when hydrogen combines with oxygen in the air to emit only clean water. A conventional rotary engine runs on gasoline, but the one in the new hybrid runs on hydrogen stored in a tank, although it can switch to gas when hydrogen runs out.
Like other global automakers, Mazda, an affiliate of Ford Motor Co., has been working on hydrogen vehicles as consumers grow more interested in automobiles that don't rely so heavily on fossil fuels.
Mazda officials said the latest hydrogen hybrid is an improvement over its previous hydrogen vehicle, leased since 2006, extending its run on a full tank of hydrogen from 99 km to 198 km.
The new car also has a lithium-ion battery that drives the motor and recharges itself using energy from braking, further conserving on electricity. Mazda refused to say what supplier was providing the battery.
The company said it has no plans to lease the car outside Japan.
The leasing fee will be similar to the predecessor at about $3,500 (U.S.) a month, according to Mazda, so it's aimed at government and ecological organizations.
At its research facility in Yokohama, Mazda also showed a "concept car," or show model, called Taiki, that it said was inspired by flowing wind.
Its curvaceous surface creased with swooping lines, the slinky car looked like a metal stingray.
Laurens van den Acker, general manager of design, said the sportscar highlights the Hiroshima-based automaker's innovation in design.
Its shape developed from studies of sheer fabric fluttering in the wind, and its interior was based on "koinobori," or carp-shaped decorations of cloth that Japanese put up to sway in the wind to celebrate Children's Day, a national holiday, said Chief Designer Atsuhiko Yamada.
"Air is a very important substance, but it is invisible," he said in explaining the design challenges.
Mazda has been marking growing sales at a time when some automakers, including Ford Motor Co., has been struggling to make a turnaround amid faltering sales and cost cutting.
Mazda's global sales for the current fiscal year is expected to be up 4 per cent to a record high 1.35 million vehicles, surpassing the company's previous record set in 1990, as it boosts vehicle sales in North America and Europe, offsetting flat sales in Japan.