General Motors
General Motors: Fallen, but getting back up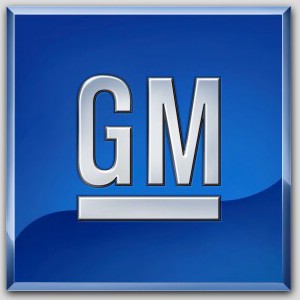 By Ranhvir Samra - September 2009.
Remember the old automobile commercials from the 1960's? The overwhelming sense of freedom, joy and class that the automobile provided became a part of the American dream. In the commercials every household consisted of a happily married couple, with their two kids and a house in the suburbs. Having an automobile became a necessity for many. GM was making these cars in America, by Americans for Americans. GM and other American automobile makers, paid the American workers a very generous salary, with full medical benefits and a pension, for working on the automobile line, which did not require an education. Almost everyone in America and Canada drove an American made vehicle by the year 1975.
GM has raked in billions of dollars over the past 50 years with impressive sales of their Chevrolet, Buick, Oldsmobile, Pontiac, Cadillac, Saab, GMC, Hummer and Saturn brands. Their expansive lineup was it's appeal, GM appealed to buyers all across the board. Whether you wanted to travel in comfort or style, GM had a vehicle for you. Young or old, a speed demon or right lane driver, GM had something for you. You can even find many of their cars generously given to car donation services every year through several different companies.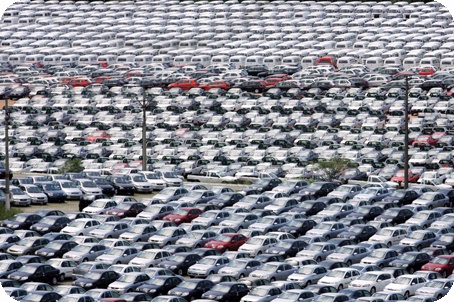 Some of the American made cars were getting a reputation as being low quality and unreliable. By the time an American car reached 100000 KM, it was due for a huge breakdown, in comparison, Japanese cars were still young and active at 100k and many lasted in excess of 300000 km. In addition, German vehicles such as the volkswagon, BMW and Mercedes were elite automobiles and expensive compared to American cars, but when the Japanese cars made it to the American market, that marked trouble for GM.
The present day Nissan company introduced models in the US in the 1970's and tallied impressive sales. Japanese cars were seen as cheaper, more reliable, with more technology and a quality ride and GM, the world's largest car manufacturer, had the most to lose. Next came Toyota and Honda, both seen in the same way: highly reliable, easy to maintain, and relatively cheap to repair. American cars, like Ford, were ridiculed with abbreviations like Found On the Road Dead (FORD), or General Muck. In 1980 43% of American cars were GM.
Whether you were the type to pitch a tent in your vehicle, like in the Pontiac Aztec, or logging around a load in the cab of a Silverado, GM produced a vehicle to fit your personality and lifestyle. The Chevrolet Corvette, the only car that GM still produces from the 1950's, is still considered the best American vehicle made. GM still had the majority slice in the automobile market when the 1990's rolled around. In the early ninties, GM created the EV1, an electric car, which was sold in California. It was the first mass produced alternative fuel automobile. It sold relatively well, however, in a move some believe was to appeal the oil companies, GM stopped producing these cars and went as far as crushing almost everyone of these vehicles that they ever produced. Not only did they scrap the EV1, GM also threw in the towel with the whole alternative fuel technologies.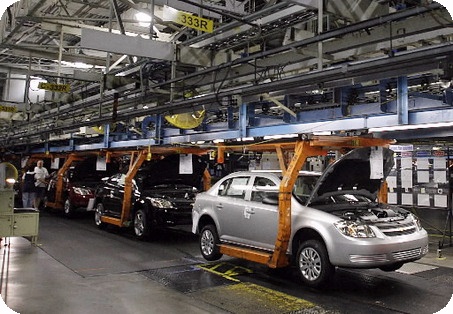 Over the years, GM sales were slipping and many of it's brands were not selling too well. GM used many cost saving measures which tarnished quality and reliability. The use of cheap plastics in the interior, using the same platform in many of it's cars and trucks, the same stereo/radio used in almost every GM vehicle. While sales were slipping, GM continued to mass produce vehicles and pay their workers a generous wage.
During the 1990s, SUV sales were on the upswing. Seeing this, GM decided to dip into SUV production at the expense of its car production. By the time GM came out with its SUVs in 2000, the SUV market was already shrinking. The world was going through some major changes, the rise in awareness of global warming led to a shift from the gas guzzling GM Sport Utility Vehicles such as the Hummer, Escalade, Suburban, Envoy and the list continues. Most automobile producers were making smaller, more fuel efficient vehicles. GM missed the boat with this idea and continued with the mass production of the larger vehicles that were struggling to sell. By 2009, less than 20% of American cars are GM.
Toyota introduced the hybrid Prius a decade ago and it is the most popular type of hybrid sold. It instantly put Toyota on the map as an environmentally friendly and technologically advanced automobile company. This Green Movement helped Toyota surpass GM as the world's largest automaker in 2008.
The camel eventually broke his back when GM declared government assisted chapter 11 bankruptcy protection in 2009. The formula at GM was not working and change was needed and needed immediately. GM was no longer a profitable company with the most sales. GM had hit rock bottom. The U.S. government loaned GM 15 billion dollars and Canada loaned GM a few billion dollars as well. The automobile industry had become so ingrained with our economy, that if GM was allowed to falter without assistance, it would hurt the economy with the loss of hundreds of thousands of jobs related to the industry. GM's future plans were questioned once again when they re-introduced the Chevrolet Camaro in 2009, a muscle car with an unnecessarily large engine.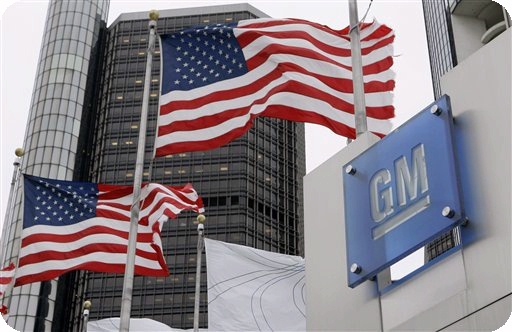 In an attempt to refocus it's identity, General Motors scrapped the Hummer, Saturn and Pontiac line and focused on Buick, GMC, Cadillac and Chevrolet. GM has finally jumped on the alternative fuel bandwagon and is soon to release the Chevrolet Volt, a plug in vehicle. Last year, the Chevrolet Malibu was named Hybrid of the year. As GM quality has improved, so has it's sales. GM will never rule the automobile market like it once did. GM will probably never lead the industry in sales again and GM models will likely be outsold by their Japanese and German counterparts. But there is a market for American vehicles. There is still hope with GM. Detroit isn't what it use to be and neither is the automobile industry. When there was no alternative to buying an American car, that is exactly what Americans and Canadians did. Now with an open market, GM must produce high quality, highly reliable, affordable, fuel efficient/environmentally friendly cars or GM will go belly up. GM is desperate for sales.
When Americans are hit with trajedy, they always respond with patriotism. Don't be surprised if the "Buy American" propaganda begins to show up in the next Chevrolet commercial.
Key Events in GM's History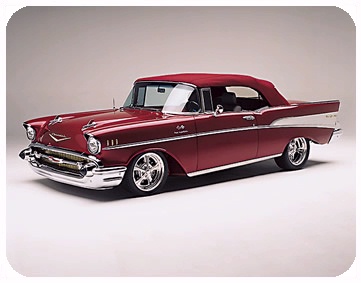 1908 - GM founded in Flint, Michigan.
1919 - GM creates captive finance arm, GMAC.
1929 - GM buys 80 percent stake in European Adam Opel AG.
1937 - After a bitter strike, GM recognizes the United Auto Workers (UAW) as the bargaining representative for its hourly workers.
1957 - The '57 Chevy becomes an iconic car of the era.
1971 - GM buys 34.2 percent of Isuzu Motors Ltd. GM raises stake to 49 percent in 1998 and later sells it.
1981 - GM buys about 5 percent of Suzuki Motor Corp. It raises the stake to 20 percent in 2000, and later sells all but 3 percent.
1981 - GM and Toyota Motor Corp form a joint venture, known as NUMMI, to build cars in Fremont, California.
1986 - GM acquires British sports car maker Lotus. It sold Lotus in 1993.
1990 - GM buys a 50-percent stake in Sweden's Saab and purchases the remaining half a decade later.
1990 - GM launches Saturn.
1998 - A 56-day strike at GM's Flint stamping operations shuts all of GM's North American assembly plants.
1999 - GM buys 20 percent of Subaru-maker Fuji Heavy Industries Ltd. GM later sells all of the stake. 1999 - GM spins off partsmaker Delphi Corp. Delphi's U.S. operations enter Chapter 11 reorganization in 2005, where they remain.
2000 - GM decides to kill the Oldsmobile brand.
2000 - GM buys 20 pct of Italy's automaker Fiat for $2.4 billion in GM stock. The deal includes a "put" option that gives Fiat SpA the right to force GM to buy the remainder of the Italian automaker.
2002 - GM signs deal to buy most of Daewoo Motor Co.
2005 - GM pays $2 billion to Fiat to cancel "put" option under its deal and buy its way out of the alliance.
2007 - GM signs deal with the UAW, which includes shifting GM's retiree health care liabilities to an independent trust.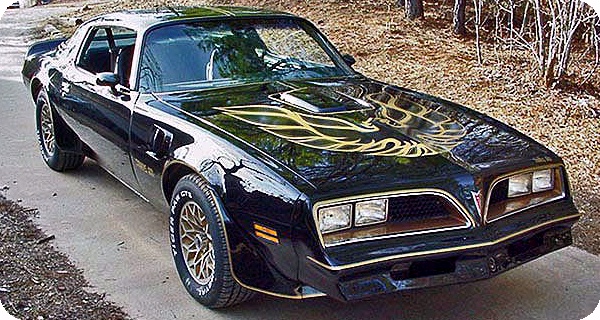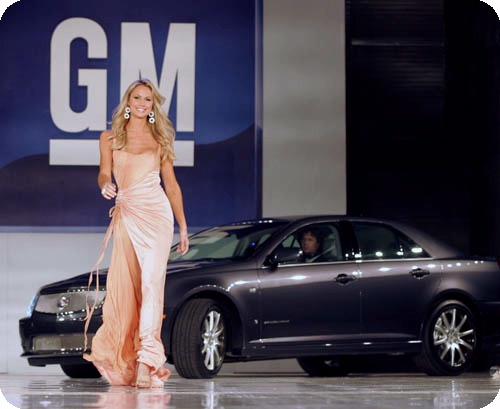 June 2008 - GM puts Hummer brand on review, ahead of a possible sale.
July 2008 - GM announces plans to cut costs by $10 billion and raise $5 billion through borrowing and asset sales.
Sept 2008 - GM and Chrysler holds talks to combine companies. GM sets aside talks in November to focus on preserving liquidity and cash.
Nov 2008 - GM warns its liquidity will fall short of the minimum needed to run its business by the first half of 2009.
Dec 2, 2008 - GM seeks U.S. government aid of up to $18 billion.
Dec 19, 2008 - GM and Chrysler granted $17.4 billion in government loans.
Jan 21, 2009 - Toyota Motor Corp surpasses GM as the world's largest automaker for the first time.
Feb 5, 2009 - GM announces plan to slash its global salaried workforce by about 10,000, or 14 percent and cut the pay of most remaining white-collar U.S. workers.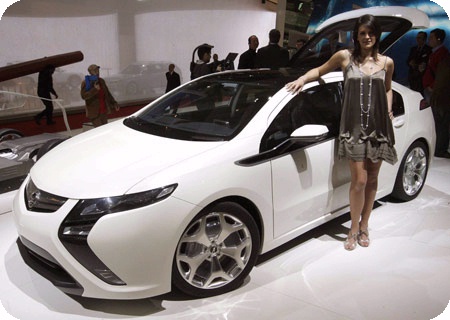 Feb 17, 2009 - GM raises U.S. funding request to a total of $30 billion, announces plans to cut global workforce by 47,000 and close five U.S. plants by 2012.
Feb 26, 2009 - GM posts 2008 loss of $30.9 billion.
March 5, 2009 - GM's auditors raise "substantial doubt" about its ability to survive outside bankruptcy.
March 30, 2009 - GM Chief Executive Rick Wagoner ousted by U.S. government, replaced by Chief Operating Officer Fritz Henderson. Company also given 60 days to develop new restructuring plan.
April 17, 2009 - GM says readying detailed plans for bankruptcy filing as it races to complete a business plan under federal oversight.
April 22, 2009 - GM says unlikely to make a $1 billion debt payment due June 1.
April 27, 2009 - GM offers final plan to reorganize outside bankruptcy by slashing bond debt, cutting over 21,000 more U.S. jobs and emerging as a nationalized automaker. GM warns it would file for bankruptcy if an offer to exchange bonds for company equity failed to cut $27 billion in debt by about 90 percent of bondholders.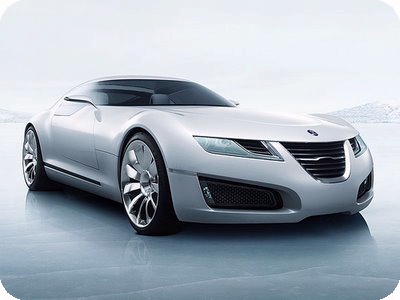 May 5, 2009 - GM details plans to all but wipe out the holdings of remaining shareholders by issuing up to 60 billion new shares in a bid to pay off debt to the U.S. government, bondholders and the UAW.
May 7, 2009 - GM posts a first-quarter net loss of $6 billion and a cash burn of $10.2 billion.
May 15, 2009 - GM announces plans to drop 1,100 of its smaller, less-profitable dealerships.
May 21, 2009 - GM announces a new cost-saving labor agreement with the UAW, under which UAW-aligned healthcare trust will receive half of the $20 billion debt GM owes the fund in the form of stock and new debt, instead of cash.
May 22, 2009 - GM borrows another $4 billion from the U.S. Treasury and reaches deal with Canadian auto workers.
May 27, 2009 - GM's offer to exchange $27 billion in bond debt for a 10 percent stake in a reorganized company fails.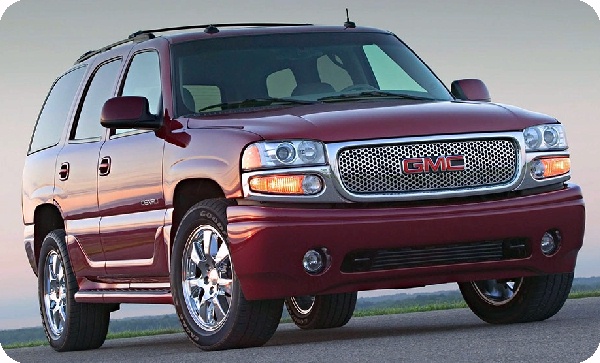 May 28, 2009 - GM and the U.S. Treasury make new equity exchange offer under which bondholders would be offered 10 percent of a reorganized company and given warrants to purchase another 15 percent.
June 1, 2009 - GM files for Chapter 11 bankruptcy protection at the U.S. Bankruptcy Court in the Southern District of New York.
September 2009 - General Motors sells European subsidiary automaker Opel to Magna (a Canadian owned parts manufacturer) in an effort to save jobs and raise capital.
September 15th 2009 - President Barack Obama visits a General Motors plants where American workers are back on the job thanks to government help. Lines of diminutive Cobalts formed the backdrop for Obama's speech, a marked contrast to the Firebirds, Cavaliers and Chevy vans the plant used to produce.
2010 - GM's CEO appeared in an TV ad touting the company's recovery and boasted of the repayment of $6.7 billion from government ahead of schedule.