Ford and Jaguar posts record losses of $12.7 Billion

Tom Krisher - January 25th 2007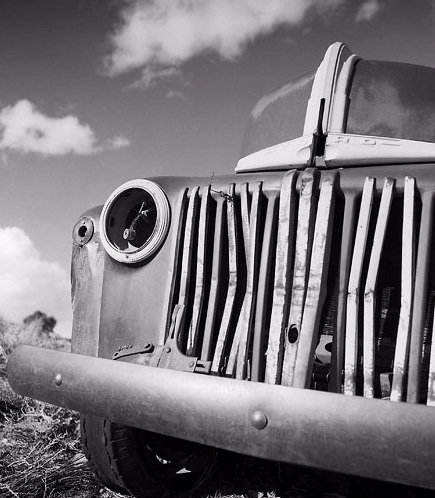 DEARBORN, Mich. — Ford Motor Co. lost $5.8 billion in the fourth quarter amid slumping sales and huge restructuring costs, pushing the automaker's deficit for the year to $12.7 billion, the largest in its 103-year history.
The annual loss reported Thursday surpassed its previous record of $7.39 billion set in 1992. The 2006 loss amounted to $6.79 per share versus a profit of $1.44 billion, or 77 cents a share, in 2005.
It was far from the largest quarterly or annual corporate loss on record — Time Warner Inc. reported a $97.2 billion loss in 2002, largely due to new accounting rules about how to value assets. Ford could not rely on accounting rules, however, to explain its staggering total, which represented a loss of $4,380 on each car or truck it sold in 2006.
Ford's loss also fell short of the biggest annual deficit in the auto industry. General Motors Corp. lost $23.4 billion in 1992.
Dearborn-based Ford predicted more losses for this year and in 2008, but said its restructuring plan is on track to return to profitability in 2009.
"We know where we are. We are dealing with it and we're on plan," Chief Executive Officer Alan Mulally told reporters and industry analysts in a conference call.
The company, which lost $6 billion on North American operations alone, said it expects to burn up $10 billion in cash to run its business through 2009 and spend another $7 billion to invest in new products.
The fourth-quarter loss was the worst final-quarter loss in Ford's history and its second-worst quarterly performance. Ford lost $6.7 billion in the first quarter of 1992, due mainly to accounting rule changes on health care liabilities.
Excluding special items, Ford lost $1.50 per share in all of 2006, worse than Wall Street predicted. Fourteen analysts polled by Thomson Financial expected a loss of $1.35 per share for the year, excluding special items.
Its shares rose 16 cents, or 1.8 percent, to $8.36 in midday trading on the New York Stock Exchange.
Ford, faced with increasing competition from overseas rivals such as Toyota Motor Corp., is banking on the restructuring to pull it through the next two years. Mulally, hired from aerospace giant Boeing Co., is leading the drastic efforts to turn around the company.
Ford mortgaged its assets to borrow up to $23.4 billion to pay for the restructuring and to cover losses expected until 2009. About 38,000 hourly workers have signed up for buyout or early retirement offers, and Ford plans to cut its white-collar work force by 14,000 with buyouts and early retirements.
Chief Financial Officer Don Leclair said Ford expects favorable results from its automotive business in 2007.
But because of interest on its debt "total automotive results are expected to be worse in 2007 than in 2006," he said.
Leclair said the company finished 2006 with $33.9 billion in cash available for its automotive operations, including $12 billion that it borrowed in December. He said the company could tap into nearly all of that cash to fund its operations.
The company is on target, though, to achieve its goal of cutting $5 billion in annual costs by 2008 compared with 2005 levels, Leclair said.
Mulally said Ford will continue to review its costs, looking for more cuts as it gains efficiencies from building more cars worldwide on fewer frames in more efficient factories.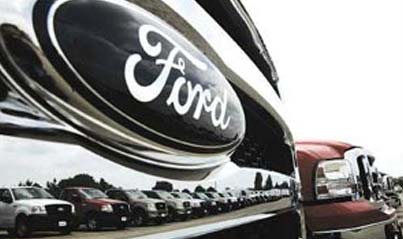 "The more I review the details, the more confident I am that we can continue that cost reduction through 2009 and beyond," he said.
Ford, which relied on truck and sport utility vehicle sales for much of its profits, was hurt last year as $3 per gallon gasoline sent consumers fleeing to smaller, more fuel-efficient vehicles. Ford has seen its market share deteriorate in recent years. At the same time, Toyota has seen its U.S. sales rise, beating Ford out for the No. 2 sales spot in July and November.
Ford has rolled out or will introduce several new or updated products during 2007, including the Edge crossover, new F-series Super Duty pickups, a redesigned Focus small car and an updated Five Hundred larger sedan.
But many analysts are skeptical that the products are strong enough to turn the company around.
Mulally said earlier this month that Ford's restructuring plan remained "absolutely the right thing to do.''
Ford said that special items associated with restructuring costs totaled $9.9 billion for the year as the company continues efforts to shrink itself to match reduced demand for its cars and trucks.
Sales for the fourth-quarter fell to $40.3 billion from $46.3 billion a year ago, while annual sales dropped to $160.1 billion from $176.9 billion in 2005.
---
Ford-owned Jaguar loses $715 million U.S.
Reuters - January 24th 2007.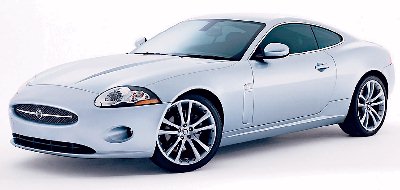 DETROIT – Ford Motor Co.'s troubled luxury brand Jaguar lost more than $715 million last year and is expected to lose $550 million in 2007, The Detroit News said Wednesday.
The newspaper said the numbers were part of an internal analysis presented to executives last week. Ford does not detail Jaguar's financial performance in its financial reports.
According to the analysis, Jaguar is projected to lose more than $300 million in 2008 and is not expecting a profit for several years.
A Ford spokesman could not be immediately reached for comment.
Ford bought Jaguar, an iconic British brand known for its leaping jaguar hood ornament, for $2.82 billion in 1989 but has struggled to make money with the brand since.
The No.2 U.S. automaker has invested heavily in Jaguar over the years and has pulled back on an earlier strategy to make the luxury brand more appealing to mass market buyers.
Wall Street analysts are keen to see the company sell Jaguar as they feel the troubles at the brand is a distraction for Ford, which is in the midst of restructuring its North American operations.
Ford chief executive Alan Mulally told reporters at the Detroit auto show earlier this month that the brand was not for sale.
Jaguar managing director Bibiana Boerio said during the same show that she is focused on resurrecting Jaguar's vehicle line-up and does not worry about a possible sale of the company.
Jaguar's sales were down nearly 32 percent for 2006 in the United States, the company's largest market.
Ford's luxury division, called Premier Automotive Group, is expected to post a loss for 2006. Jaguar remains the biggest drag on the division's results.
---
Ford unveils `plug-in' fuel-cell hybrid
Modified Edge model operates on compressed hydrogen, batteries
Reuters - January 24th 2007.
Ford Motor Co. unveiled a first-of-its-kind test car powered by a combination of compressed hydrogen and a "plug-in" battery pack that can be recharged with a standard home electrical cord.
The concept vehicle – a modified Ford Edge – is one of several technologies Ford and other auto makers are showing off at the Washington, D.C., auto show intended to highlight their progress in pushing into alternatives to gasoline, including ethanol and clean-burning diesel.
Ford said its Edge was the first driveable hybrid vehicle with batteries that draw power from a hydrogen fuel cell and can be recharged by a conventional electric outlet.
General Motors Corp is pressing ahead with a plug-in hybrid of its own designed to run on electric power with a small combustion engine to provide a charge as needed.
GM has said it will begin making its Chevrolet Volt as soon as it can produce the lithium-ion batteries needed to run the vehicle at a lower cost and with higher performance, a development not expected before the end of the decade.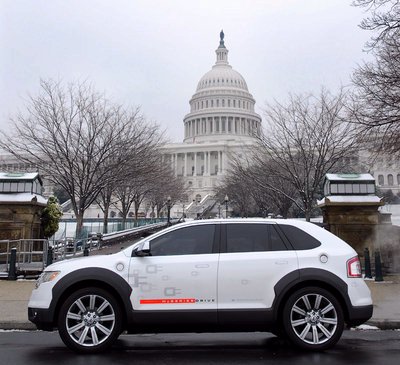 Ford also said it had significant technical hurdles to overcome before it could sell its new electric and hydrogen car, noting that any fuel-cell vehicle cost millions of dollars to develop.
"Commercialization ... remains a tantalizing but distant goal," said Sue Cischke, Ford vice-president of environmental and safety engineering.
The push to develop environmentally friendly cars by Ford and GM comes as the U.S. auto makers look to break an association with gas-guzzling trucks that executives and analysts say has hurt car sales and the image of their brands.
Ford said the "HySeries Drive" technology developed for the Edge test vehicle was capable of delivering the equivalent of 5.7 litres per 100 kilometres running on compressed hydrogen.
The vehicle is powered by a 336-volt lithium-ion battery pack capable of travelling 40 kilometres on stored electric power, Ford said.
The vehicle is capable of accelerating up to 137 kilometres per hour, it said.
Toyota Motor Corp. and Honda Motor Co. also have fuel-cell prototypes in development.
Hydrogen Part of a Broader Effort At Ford
Research into hydrogen, including the Ford Edge with HySeries Drive, is part of Ford's overall effort to address the challenges of climate change and energy independence. Ford is moving ahead with a range of technology solutions simultaneously, including vehicles such as the Ford Escape Hybrid and Mercury Mariner Hybrid, hydrogen fuel cells, hydrogen internal combustion engines, ethanol, clean diesel and refinements to gasoline fueled engines and advanced transmissions. Some of the technology, such as that seen in Ford's lineup of hybrid vehicles, represents near-term approaches. Other technology, including hydrogen fell cells, must be viewed as a long-term option.
Ford began working on hydrogen technology in the early 1990s. Ford's first hydrogen fuel cell vehicle, released in 2001, was based on a lightweight aluminum sedan body, which also was used in the development of the company's first hydrogen-powered internal combustion engine.
The company currently has a fleet of 30 hydrogen-powered Focus fuel cell vehicles on the road as part of a worldwide, seven-city program to conduct real-world testing of fuel cell technology. The fleet has accumulated more than 300,000 miles since its inception. With this fleet on the road, a great deal of information that can be integrated into future fuel cell vehicle propulsion systems is being generated in different local environmental conditions.
Having the fleet outside the confines of Ford Motor Company also has allowed the team to gain valuable feedback on servicing vehicles in the field. As a hydrogen infrastructure is developed and implemented for the fleet at each location, lessons learned are being generated to ensure that the customer and hydrogen fueling interface is seamless and customer friendly.
Parts piracy puts public safety at risk
January 23, 2007 - Ford Motor Co. has a full-time staff dedicated to finding the sources of counterfeit and pirated auto parts, but the problem still costs the company about $1 billion (U.S.) per year.
A study by the U.S. chamber of commerce and the Coalition Against Counterfeiting and Piracy quotes Joe Wiegand, Ford's global brand protection manager, as saying that the cost to public safety may be larger.
"That doesn't include the health and safety ramifications of fake or faulty items such as auto glass, brakes, tires, suspension and coupling mechanisms, and even seat belts. Driver safety is simply not quantifiable," he said.
Ford leaving Champ Car `not the end of the world'
Another sponsor will likely step up, say racing insiders
Rick Matsumoto - January 25th 2007.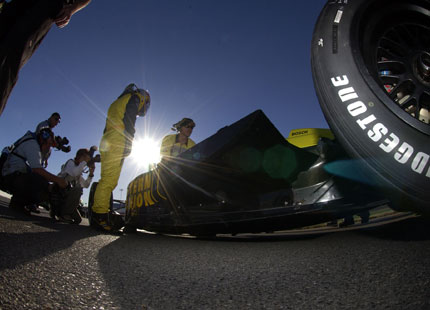 Ford's withdrawal as a sponsor of the Champ Car World Series will have no effect on the Grand Prix of Toronto, says the president and CEO of the local event, Charlie Johnstone.
However, it does nothing to enhance the image of the open-wheel series which has deteriorated because of the inability of Champ Car and the rival Indy Racing League to settle its long-standing rift and reunite.
"Yes, there has got to be some concern over the image," said one source within the series who requested anonymity.
"But I don't think it's the end of the world. I understand there's a better than average chance that a replacement for Ford will be in place by the time the season starts in April."
Johnstone said he feels Ford's departure gives Champ Car the opportunity to go in a different direction with sponsorship of the series.
"It really opens up opportunities for the Grand Prix and I'd venture to say Champ Car, as opposed to being locked down by all-exclusive sponsorships," said Johnstone, pointing to the Speed World Challenge which makes it Toronto debut this year as an undercard event, with a variety of manufacturers taking part.
Champ Car manager of media relations, Eric Mauk, pointed out that Ford was not the title sponsor of the series, but rather a "presenting sponsor" along with Bridgestone.
The two companies assumed that co-sponsorship in 2004 after CART declared bankruptcy and the assets of the series were purchased by current owners Kevin Kalkhoven, Gerald Forsythe and Paul Gentilozzi.
The 17-race series is slated to make its Toronto stop July 6-8, and will run as usual over the 1.755-mile road circuit through Exhibition Place and along Lakeshore Blvd.
Ford, which has been associated with Champ Car and its predecessor, CART, since it re-entered open-wheel racing in 1992, said the series no longer met the company's business plan.
"We evaluate all of our racing programs on an annual basis and have decided that this sponsorship does not align with our current business objectives," said Dan Davis, director of Ford Racing Technology.
Champ Car president Steve Johnson said thanked Ford for its long partnership with the series.
"We are continuing building a bright future for the series and are exploring a number of other options for a manufacturer partner," he said.
Champ Car currently uses engines made by Cosworth, once a Ford subsidiary but now owned by Kalkhoven and Forsythe.
RENAULT'S NEW RIDE: Renault unveiled its new Formula One car yesterday. The R27 Renault racked up 2,000 kilometres during testing in Jerez, Spain, last week, company officials said.
---
Crossover gives Ford more than Edge
Jim Kenzie - January 20th 2007.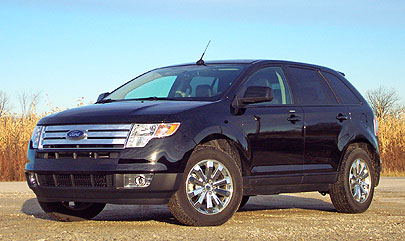 Buzz. You can't make it. You can't buy it. It just happens.
Based on an extremely unscientific survey with a statistically invalid sample size, I'd have to say that Ford's new Oakville-built Edge crossover utility vehicle might just be getting some positive buzz.
I had an early production version for a couple of weeks – a normal test drive that spilled over into the holiday season.
And a larger-than-usual number of onlookers, passersby and runners-into commented positively on it.
One man, I'd guess in his late 40s, stopped me in a Hwy. 401 service centre parking lot.
2007 Ford Edge Crossover
Price: base SE/SEL/as tested $32,999/$35,999/$42,499
Engine: 3.5-litre V6
Power/torque: 265 hp/250 lb.-ft.
Fuel consumption: (L/100 km) FWD/4WD city 13.0, hwy 8.5/13.5, 9.1
Competition: Chrysler Pacifica, GMC Acadia, Nissan Murano, Lexus RX 350
What's best: Strong styling, interior room, pleasant dynamics, quiet ride
What's worst: Some safety niggles, engine noise
What's interesting: This could be the vehicle that puts the term "crossover" into the public domain
"How do you like it?'' he asked expectantly.
"It's pretty good,'' I said.
"Just `pretty good'?'' he replied, somewhat disheartened. "I've been thinking about buying one.''
"What do you drive now?'' I asked.
"I have a Ford Fusion. Had an Infiniti G35, but had all sorts of troubles with it – front brakes, differential or something to do with the traction control – not sure. Anyway, I like the Fusion better.
"I also have a Ford Explorer, which I'm thinking of trading in on the Edge.''
Ford couldn't have invented a better potential customer than this guy.
Not just because he likes his Fusion better than his former much pricier Japanese luxury car, but because Ford's entire plan is for Explorer owners – a once-huge, now rapidly diminishing breed – to move into the Edge.
They have similar interior package, tall seating position, still with four-wheel drive albeit intended for on-road use.
Much more car-like ride and handling, better fuel economy, more safety.
Now I must add that the buzz wasn't all positive. None of the altitudinally disadvantaged women in my household – even my youngest daughter, who by our standards is WNBA material – liked it. They said it felt too big, notably too wide, especially the massive dashboard, which seemed intimidating.
Funny; the market research says that one thing women typically like about SUVs is that they sit up high, feel protected in a large vehicle.
I guess size matters differently to different people.
But measured against the objectives laid out for it, the Edge does a decent job.
Styling is of course subjective, but I think it looks good, if not dramatic.
One observer who had just replaced the tires on his own car noted that the optional P245/60R18 rubber on the smaller-than-they-look 18-inch wheels would cost a bundle to replace.
But located as they are near the corners of the body, they do give Edge a strong stance.
Another downside to the big tires is that this Ford sits high off the ground.
That makes for a bit of a climb into the seat and, for the shorties, a difficult reach for the hatch handle. It's hard to get enough leverage to lift the hatch up and even harder to stretch to pull it down.
With a power hatch lid increasingly common on minivans and SUVs, it's only a matter of time before it's available on Edge, too.
The three-horizontal-bar grille, launched on Fusion and soon to be on every Ford, lends family identity.
I almost never open a sunroof, and always keep the sunshade closed to reduce reflections on the dash and windshield. But if you are a fan, you are gonna love the optional ($1,700) powered Vista roof, one of the largest such devices on the market.
The interior is strictly a five-seater; the width helps make the back seat almost feasible for three adults. A single lever on either side flips and folds the 60/40 split seatbacks onto the cushion to expand the already sizable cargo area. An electro-mechanical flip-folder is optional, but the manual one works so well you'd wonder why anyone would bother.
The front seats are comfortable on long drives as I found out on a roundtrip to Detroit in two days.
The new V6 is Ford's engine of the future. Lots of power and decent performance, assisted by a six-speed automatic transmission.
At a future trends seminar (the reason I was in Detroit), Ford executives said they're trying to engineer more refinement into their products: more solid door-closing sound, less irritating warning chimes, more mellifluous exhaust notes.
They should start with Edge on the latter attribute: it sounds honky and unpleasant when revved hard, although at highway speeds it is nearly inaudible.
A long-standing beef about Ford's console-mounted transmissions is that you can't shift into Neutral from Drive without depressing the thumb button.
Why does this matter? Because in an incipient skid, the first thing you want to do is decouple the wheels from the drivetrain, so the tires' collective grip can be dedicated to changing direction.
Power, braking, even the retarding effect of engine drag, are exactly what you don't want.
But if you have to hit the button to hit Neutral, there's a strong chance you'll overshoot into reverse or, worse still, Park.
Remember, this is likely to be a panic situation.
I have asked Ford transmission engineers why they do this – they are just about the only ones in the industry who do – and they don't have an answer. That's because there is no answer because it's one of those things "we've always done this way'' and no one has ever questioned why, or thought about the consequences.
Ford has these damnable automatic locks, the most irritating feature in all of autodom. This can be reprogrammed, but only by the dealer. Surely the customer should have this option.
The electrochromatic auto-dimming interior rear-view mirror means you can't see a damned thing out the back at night through the SUV-requisite tinted glass. Visibility is the most important safety feature a car can have. Why doesn't anybody else understand this?
Edge is a big, heavy vehicle, but the MacStrut front/four-link independent rear suspension provides pretty competent handling, with decent steering and composure in the corners. The ride is perhaps a bit firmer than it really needs to be, but is at least better than the Explorer.
The four-wheel-drive system is adapted from the compact Escape SUV. Combine that with directional stability control and Ford's roll control stabilization system, and if you fall off the road in an Edge, you're really dumb. Or maybe drunk.
A front-drive model is also available, but I don't really know why.
There are airbags all over the place, but the lack of active head restraints – my current crusade – is simply inexcusable.
The Edge is aimed at what everybody in the industry calls the crossover segment. Except I don't hear customers calling anything a crossover – maybe it's just a matter of time.
And of course Ford already has what I think is one of the best vehicles in this segment in the Freestyle. It's larger, has more seats, has at least as good dynamics and has Volvo underpinnings. Except they don't seem to be able to throw Freestyles off buildings onto prospects.
With the buzz starting to build, maybe they'll have more success with the Edge.