Ford Escape Hybrid 2008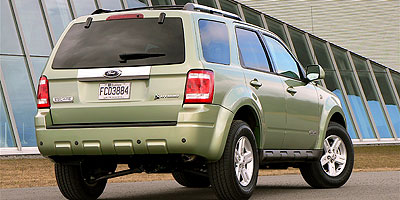 New looks, interior and safety features highlight upgrades to compact SUV.
April 14th 2007.
GATINEAU, QUE.–Like most things in life – marriage proposals, catching a bus, betting on ProLine – timing is everything. Take Ford's original Escape.
When the auto maker launched its compact sports-utility vehicle six years ago, essentially, its timing couldn't have been better.
With established sales successes like Honda's CR-V and Toyota's RAV 4, the public was getting accustomed to the idea of compact car-based, tall wagons masquerading as shrunken SUVs. Minivans were losing what little cool they ever had. And specifically for Ford, owners were jumping out of their truck-based mid-sized Explorers and into smaller-sized competitors.
The 2001 Escape also came with a then rare-for-its-class V6 engine. Ample road feel, rugged styling, a roomy interior, Ford's solid reputation as a truck maker and the Escape's "just right size" were additional reasons why Canadians made Escape the best-selling compact SUV in Canada.
But six years is a long time in today's rapidly evolving market.
Original Escape competitors have been recently updated. Plus there's a surfeit of fresh competition from every car maker looking to jump onto the popular compact SUV bandwagon.
More telling, even though 2006 was Escape's best sales year to date, many of those units needed incentives to make their way off the showroom floor.
However, with this new model, current Escape fans (Escapists?) shouldn't be worried that Ford got left behind.
Fundamentally, the new 2008 Escape delivers on all the same promises that made Ford's cute-ute almost as ubiquitous on Canadian streets as Tim Hortons.
Ford Escape V6 AWD Limited
Price: base (FWD, 4-cylinder)/as tested $23,999/$34,499
Federal rebate/penalty: No
Engine: 3.0-litre six-cylinder gasoline
Power/torque: 200 hp/193 lb.-ft.
Fuel consumption: (L/100 km) city 12.5, hwy 9.1, as tested 12.0
Competition: Hyundai Santa Fe, Chevrolet Equinox, Jeep Liberty
What's best: Generous safety kit; pleasant and roomy interior
What's worst: Old mechanicals; truck-like driving experience
What's interesting: Edge-like styling covers old-school mechanicals
The '08 Escape's five-door wagon, all-independent suspension unibody chassis – originally derived from the 1998-2002 Mazda 626 sedan – is primarily a carryover from the '01 model. As are the three available powerplants: a 153-horsepower 2.3-litre four-cylinder; a 200 hp 3.0L V6; and a 155 hp gasoline-electric hybrid.
As the five-speed manual transmission is now a U.S. market exclusive, gasoline Escapes now come only with a four-speed automatic. Hybrid Escapes retain their continuously variable transmission.
Similar to the last generation Escape, front-wheel drive is standard and all-wheel drive is optional across the board.
Building on the previous model's success, for '08, Ford focused on updating the new Escape's looks, refining the interior, improving fuel economy and adding safety features.
Regardless of how you feel about the cleaned-up looks outside, the heavily revised inside of the '08 Escape is a pretty nice place to be.
Although Ford is bragging that its new cloth seats are recycled from post-industrial materials, I spent the majority of my time in an Escape V6 AWD Limited ($34,499) that had optional heated leather seating. Complementing an already good driving position, the seats are comfortable and supportive. The revised driver's instrumentation is straightforward and clear, and the centre stack controls are well organized, with different shapes and sizes for ease of recognition.
The only complaints are the placement of the trip computer's buttons, hidden ahead of the driver's left knee, a steering wheel that doesn't telescope and panel gaps in some dash pieces that were uneven and quite large.
Notable is the front-disc/rear-drum brakes setup on gasoline engine Escapes (hybrids get discs all-around for regenerative braking purposes).
Nonetheless, whether it's the base model Escape XLS FWD ($23,999), or the $9,870 more expensive top-of-the-line Escape Hybrid AWD, Ford has increased the safety factor.
Two-row curtain airbags, first-row side airbags and an anti-lock braking system are all standard on every '08 Escape. Gasoline models get traction control and a roll stability control system.
Ford wants to increase the proportion of Escape four-bangers beyond the current 20 per cent of total sales to take on the CR-V and Hyundai Tucson. Yet there were no four-cylinder Escapes on hand at the preview held here on the Quebec side of the Ottawa River.
So it was off into the foothills of the Gatineau Park, and then to the streets paved with our taxes (not gold) of downtown Ottawa, in what Ford says is its most popular Escape, one with a V6 and AWD.
Too bad the V6 is lethargic and aurally unpleasant. It doesn't help that with only four speeds – where most competitors have five – the Ford's slush box sometimes hunts between gears.
The company's claim that interior noise has been quieted in the new Escape by 12 per cent seems credible. And the suspension seemed less noisy over the bombed-out roads near the Quebec town of Wakefield.
Like its crossover big brother the Edge, Ford has given the Escape a heavy, truck-like driving feel. Especially in stop and go traffic. Unlike the last generation Escape, the new model cornered relatively flat. The roll stability control system was appreciated when the 235/70-16 Continental Contitrac all-season rubber couldn't handle some of the sharper corners that had sandy shoulders.
Overall, Ford has made thoughtful upgrades to an already (very) popular vehicle.
With competitors seemingly being added to this burgeoning category every month, only time will tell if new sheet metal, a nicer cockpit and added standard safety equipment is enough to keep the 2008 Ford Escape at the top of the compact SUV sales charts.