Audi R8, Auto Union's 1930s Silver Arrow and a Sneak Peak at 2008
Audi R8
Price: $140,000 (est.)
Engine: 4.2-litre V8
Power/torque: 420 hp/318 lb.-ft.
Fuel consumption: N/A.
Competition: Porsche 911 Carrera 4, Aston Martin V8, Mercedes SL 500/600, BMW M6
What's best: Comfort, refinement, rarity
What's worst: Not the mind-blowing road thrill that it might seem, controversial styling
What's interesting: Audi's first mid-engined series sports car
Thor's mighty ride
German car maker continues its march upscale with a glamorous two-seater packing a 4.2 L V8
Jim Kenzie - January 27th 2007
LAS VEGAS–The R8 is the first mid-engine production sports car from Audi.
What it's not is a rebodied Lamborghini Gallardo (Audi owns the Italian car maker).
The R8 and Gallardo are high-performance two-seaters with aluminum space-frame construction, viscous-coupled four-wheel drive and optional ceramic brakes. They have similarities in certain suspension, transmission and interior components.
But they're distant cousins rather than siblings.
The R8 has evolved directly from the Le Mans quattro concept car seen at the 2003 Frankfurt auto show.
At that stage, Audi had not committed to a production version of the car. But Claus Potthoff, then-head of exterior styling for Audi, said the concept was designed with production in mind.
"The front end of the actual car is longer, mainly to meet pedestrian crash regulations," he told me at this media preview. "The headlights had to be changed and moved higher for legal reasons."
But a glance confirms that the R8 is true to the concept.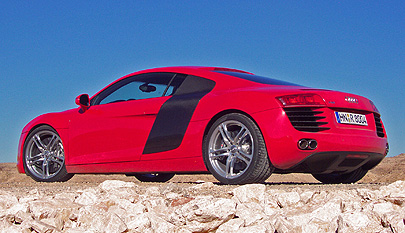 Two styling features stand out.
One is the LED daytime running lights, a string of bright dots surrounding the headlight openings that gives the car a stunning frontal view at night. Later in the year, full LED headlights, billed as an industry first, will be available.
More controversial is the so-called "side plate" behind the rear doors, which looks like a patch over the body work. It can be ordered in various trim finishes, including contrasting paint colour, carbon fibre and body colour.
"The wheelbase on the R8 is quite long for a sports car," added Potthoff. "We did that to get good interior space. But we felt it needed something to break up the expanse of the body side, and also to highlight the air intakes to announce that this is a mid-engined car."
The face and tail views also stress the car's low profile and width.
The R8 is indeed quite spacious inside. Audi claims that two golf bags can even fit behind the seats. With clubs in them? Well, almost – one bag fits, but two will completely obscure the rear window.
Otherwise, the interior is a delight, visually and functionally. (Audi's ownership of Lamborghini has benefited the Italian company immensely, particularly in interior fit and finish.)
Power is provided by a direct-injected version of Audi's 4.2-litre V8, most closely related to that in the RS4.
In the R8 it gets a dry sump: there's no oil pan as such; the lubricating oil is collected in a separate tank and pumped back into the engine. This race-bred technology reduces engine height and hence gives the car a lower centre of gravity.
Either a manual or paddle-activated electronically shifted transmission, both six-speed, can be ordered.
Audi claims a 0-to-100 km/h sprint time of 4.6 seconds, and a top speed of 301 km/h.
The double-wishbone front and rear suspension can be ordered with magnetic ride, a variation of the Delphi system used in Corvette and various Cadillacs. Either ride comfort or handling can be emphasized, and the system really works.
A full day booting around the Valley of Fire State Park east of Sin City, plus a handful of laps on a handling track set up at Las Vegas International Speedway, gave us a reasonable peek into the R8's nature.
Audis are mainly about style, refinement and comfort. Performance, too, but (with a few exception) not hard-edged brutality. So while the R8 goes and handles, it doesn't beat you up. It could well be a daily driver.
At cruising speed the car is remarkably quiet. Lean on it and the exhaust takes on a purposeful bellow – not the banshee shriek of the Lamborghini V10. Driving near the lofty 8250 r.p.m. red line in a tunnel with the windows down is aural magic.
The velvet-glove ambiance, plus the grip provided by the four-wheel drive, makes the car feel less fast than it is.
The system directs anywhere from 10 to 35 per cent of the torque to the front wheels, inducing understeer as the basic handling characteristic. Safer and more stable than the tail happiness of some competitors, but perhaps not quite as entertaining.
The R8 arrives in Europe in mid-year, and on our shores this fall in very limited numbers (fewer than 100).
Canadian pricing is not yet firm, but a reasonably equipped model should run in the $140,000 range – right up against a Porsche 911 Carrera 4, perceived as the main rival.
---
Sales surge at Audi
Audi continues its sales success with another record - January 27th 2007.
Audi believes it's on the way to becoming the world's most successful premium brand by 2015, following its 11th successive global sales record. The German firm sold 905,100 vehicles in 2006, up from 829,109 the previous year.
Audi's UK division recorded a 5.7 per cent increase, reachinga new peak of 86,003 cars, up from 82,496 in 2005 - the sixth year in succession in which it has raised the bar. The US remains the firm's largest market for exports, with sales rising by 8.5 per cent from 83,066 to a record 90,116. Britain was placed second.
---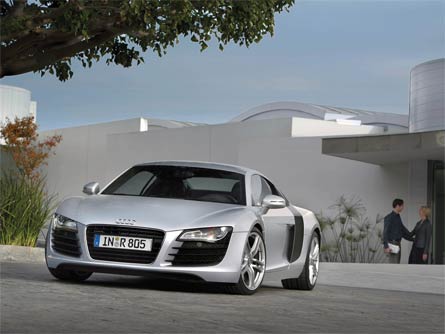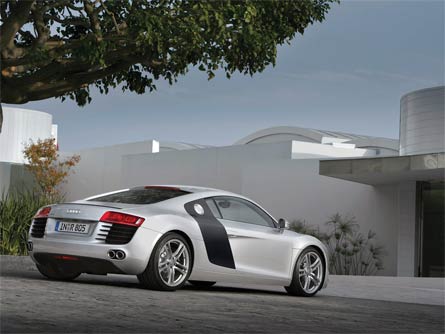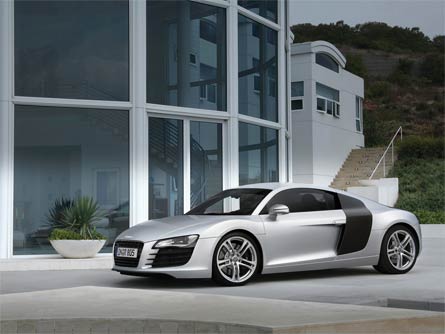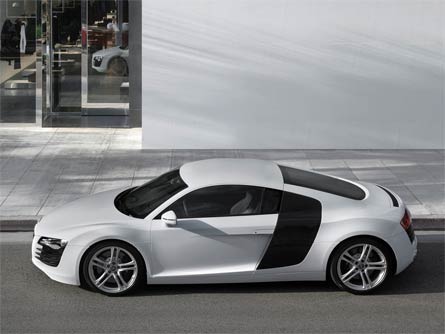 ---
Audi wants to get bolder in U.S.
Richard Truett - January 25th 2007.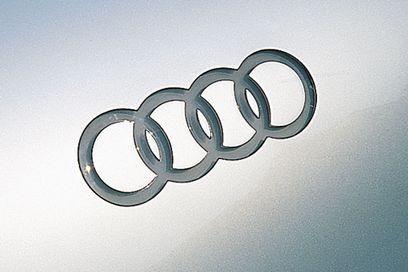 DETROIT - Audi is getting tired of being beaten in the U.S. sales reace by Lexus and other luxury brands.
That may change if the German luxury automaker's three-pronged plan to boost sales succeeds. A top Audi executive says the automaker will increase the number of vehicles it offers, add more exclusive dealers and more aggressively promote its brand image with more effective ads and a larger Internet presence.
In a speech at the Automotive News World Congress, Johan de Nysschen, executive vice president of Audi of America Inc., said the automaker is frustrated over its lack of success in the United States. Last year, Audi sold 90,116 vehicles in the United States. Lexus, a much younger brand, sold 322,434 units.
To get noticed, de Nysschen said, Audi will start acting more like an American brand.
"Understatement is inherent in Audi's brand DNA," he said. "It is who we are. It is our expression of European luxury. Yet we think it's time for Audi of America to stop being so understated and a little more American in telling our brand story."
To do that, Audi has hired a new ad agency, de Nysschen said. The agency, Venables, Bell & Partners, is developing a message for Audi that is expected to debut in April along with the new TT sports car.
"We've challenged our new agency to build on the brand's history and DNA for product excellence. We want to make a compelling argument to America's discerning luxury buyers that they should consider Audi," de Nysschen said.
The U.S. growth plan is part of a larger strategy. Audi sold 905,000 vehicles worldwide in 2006. The company's long-term plan, de Nysschen said, is to increase worldwide sales to 1.4 million units by 2015 by raising sales in emerging markets such as China and India.
On the product side, audi is in the midst of launching 19 vehicles in the United States from 2005 to 2007. They include the R8 sports car to challenge the Porsche 911, a mid-sized A5 coupe and the new TT. de Nysschen said Audi is also looking at a small luxury SUV and plans to use diesel engines extensively in North America.
"We've addressed quality and reliability problems that dogged us in the '90s and taken major steps to become segment leaders in quality," he said. "Our mission and aspiration in the U.S. market is, quite simply, to be recognized as a Tier 1 premium brand in the same light as Mercedes-Benz and BMW, as we already are in Europe and elsewhere around the world."
Nazi-era racer on the block
Colleen Long - January 26th 2007.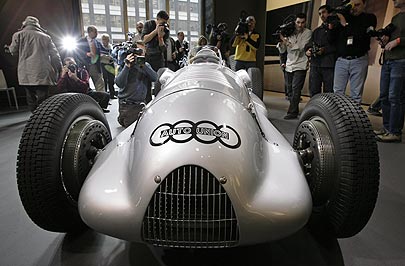 NEW YORK – A rare Nazi-era race car hidden in a German mine shaft during World War II and said to be worth millions of dollars has gone on display.
The sleek silver D-Type from Audi forerunner Auto Union is to be on display for two days through Friday at the car company's fancy showroom on Park Avenue. It will be auctioned as part of Christie's Retromobile auto sale on Feb. 17 in Paris. The anonymous seller expects it to fetch $12 million to $15 million.
While Adolf Hitler gave about 500,000 reichsmarks to Auto Union and Mercedes-Benz to promote racing and technology, the car is not specifically affiliated with the Third Reich, Christie's said.
The car, one of only two in existence, is thought to be the grandfather of modern race cars. It revolutionized racing by putting the driver in front of the engine instead of behind it and reached speeds up to 185 mph.
"This car was really quite ahead of its time," said Rupert Banner, head of Christie's International Motor Cars division. "It was revolutionary. It changed the face of racing.''
More than 20 Auto Union series cars were built between 1933 and 1939. This model, which has a body shaped like an airplane fuselage, was designed by Ferdinand Porsche. The driver sits sunken into the body of the metal, and the wheels, which look like oversized bicycle tires, have independent suspension.
"There was a kind of memory loss after the war," said Audi historian Thomas Erdmann. "It took really until the early 1960s and later on to the 1980s for car design to catch up to these cars.''
During the European motorsports heyday just before World War II, the D-Type won the 1939 French Grand Prix. The Silver Arrow, as it was known, also was filmed winding through country roads for use in newsreels across Europe. In racing, German cars were always silver, British were racing green and French were blue.
During World War II, Auto Union workers hid the cars in a mine shaft in eastern Germany to avoid using them for scrap metal. After the war, the Russians discovered the cars and took them to their own country, along with dismantled Auto Union factories, to re-create motorsports.
"They vanished, lost behind the Iron Curtain," Erdmann said.
The cars eventually were taken apart. An American car collector came across car parts in a scrap heap in Ukraine and took them back to England, where experts Crosthwaite & Gardiner restored this car. Christie's did not say who is selling it.