David Suzuki launches Green Tour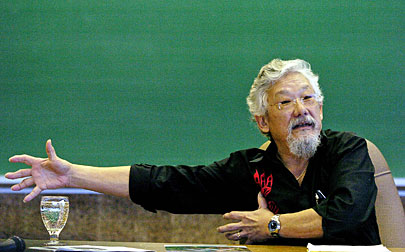 World renowned environmentalist David Suzuki plans to launch a cross-Canada tour to urge Canadians to make the environment the central issue in the next election campaign.
Canadian Press - Jan 29th 2007.
HALIFAX – World-renowned environmemntalist David Suzuki is launching an election-style, national tour this week – starting on the East Coast – to urge Canadians to make the environment their top political issue.
The science broadcaster's tour will stop at cities across the country, and audiences will be asked, "If you were Prime Minister, what would you do for the environment?"
Suzuki says he wants to know what Canadians in 40 communities think, and hopes his tour becomes a jumping-off point to make environmental issues the top concern in the next federal election.
The prominent environmentalist says the country is at an ``historic moment" where some polls are suggesting that the environment has surpassed health as the top concern of most Canadians.
Suzuki, the head of the Suzuki Foundation, says he wants to build on that momentum.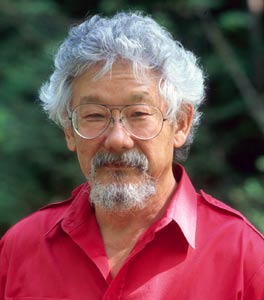 "We're going to spend most of our time listening to what people feel is their kind of issue," he said.
"We want this to be a broad outpouring of interest."
Suzuki says when the tour wraps up in March, he'll take the concerns and ideas he hears to Ottawa. He may also make a documentary.
Suzuki plans to kick the tour off in St. John's, N.L., on Thursday with a public meeting that has already sold out.
He says Newfoundland and Labrador is a logical starting point because it has suffered through the collapse of the cod stocks.
"To me Newfoundlanders are the heart of the environmental crisis. They are the canary in the coal mine," he said in an interview.
"At the time of the collapse in 1992 we thought the stocks would return, and yet here we are 15 years later and there are fewer cod than ever."
From St. John's, Suzuki will continue on to Halifax on Friday, and Prince Edward Island and New Brunswick on Saturday, for public meetings.
Suzuki said the stop in Saint John, N.B., on Saturday night will be important, as the city begins to consider an Irving Oil proposal to build a second oil refinery in the city.
"I know the argument is to have more jobs, but are we going to allow that kind of allure to trump what's going to happen to our air and our water," he asked?.
"What we hope we can do is offer a different perspective that may give ammunition to opponents, or to those who want a better environmental assessment."
He's expecting some positive ideas to come out of Charlottetown.
"I've heard that Prince Edward Island is shooting to become 100 per cent fossil-fuel free in its production of energy, which would be fantastic," he said.
Local environmental groups are setting up the events, and funds raised will go back to those groups, said Suzuki.
Canadian celebrities will join Suzuki throughout the tour, with musicians such as Sarah Harmer and Anne Murray performing, along with TV personalities like Rick Mercer, and NHL players Andrew Ference and Robyn Regehr of the Calgary Flames.
The tour has a theme song courtesy of Canadian musician Raffi – a rockabilly number called "Cool It," about global warming.
The David Suzuki Foundation says in a news release that the carbon emissions associated with the tour are offset through its investments in sustainable energy projects, such as wind farms, solar installations, or energy efficiency projects.
---
Dr. David Suzuki on...communities:
"It's at the local level that things are really happening, and usually because it's being driven by necessity. [Municipalities] are finding they can save a huge amount of money by being much more efficient. In every community across the country we should be sitting down and saying why do we live here? What is it about this place that we love, and what do we want this place to be in 30 or 40 years? City councils become cheerleaders for developers because it brings dollars into the coffers. But in the process it often destroys the very reasons people live in those local communities."
Dr. David Suzuki on...Canadian policies:
"The environment has become a number one issue. So suddenly (Prime Minister Stephen) Harper is singing green as can be. The question is, what's going to happen after the election?
"I don't see among any of them a real sense of the urgency. This is not just some crisis we can throw a bit of money at.
"If the Tories are serious they first have to spend serious time developing an energy plan with environmentalists and then they've got to legislate targets and timelines. They've got to start using taxation seriously. If they don't like the word carbon tax, call it polluters pay. The reason the Liberals failed is because they were under such pressure from the auto sector and the fossil fuel sector. They gave in all the way."
Dr. David Suzuki on...individuals:
"We have been afflicted with an increased appetite for consumption. The average family has decreased by 50 per cent and the average home has doubled in size," he said.
"It's a lunatic notion that growth is the be all and end all. The biosphere is the reality in which we live and we've filled it up. We're using up the rightful legacy of you young people in this room. That's the grand idea of growth."
---
Baird must put his words into action: Suzuki
January 14th 2007.
David Suzuki says newly-minted Environment Minister John Baird has gotten off to a good start, simply because he acknowledges global warming is a reality that has to be dealt with.
Suzuki - the advocate, author and journalist who has become the face of the environmental movement in Canada -- appeared on CTV's Question Period on Sunday.
"Mr. Baird called me within two hours after he was appointed. When I called him back, he said completely out of the blue, 'David, I want you to understand, I'm not a flat Earther'," Suzuki said.
"He said I believe the information scientists are accumulating about global warming. I'm not denying its occurrence. Well to me that was a huge step up from what the previous minister had really been saying. So that was a very good start."
The two also met in B.C. while Baird was there to tour extensive storm damage in Stanley Park.
However, Suzuki pointed out that former environment minister Rona Ambrose also approached him shortly after her appointment.
Ambrose said all the right things and seemed to have the best intentions, but failed to deliver substantive policies to improve the state of the environment, he said.
The onus is on Baird to get things done and set himself apart, Suzuki said.
"I think we've got to wait and see now that the photo op is done. Now let's see what can be actually delivered in terms of very hard targets and timelines to actually begin to reduce greenhouse gas emissions deeply."
The Conservative government has said that it can't meet emissions reductions targets set by the former Liberal government under the Kyoto Protocol on Climate Change.
Years of Liberal inaction are the reason, the government claims.
Suzuki said he agrees that the Liberals failed to deliver meaningful policies to clean up the environment. But he said the issue is too important to play politics with.
He said he reminded Baird that Kyoto was ratified by former prime minister Jean Chretien in 2002, meaning the nation is bound to try and meet the targets. To give up, he said, would be a "dereliction of duties."
"He didn't ratify that as a Liberal, he ratified that as a prime minister of Canada. Canada ratified that treaty, " he said.
"We're now bound by that as an international agreement. And I think it's not what Canadians want to do to say well, these international agreements, we can't meet them anyway we're not going to do anything. We've got a responsibility to try."
Suzuki said Baird wouldn't give him a straight answer when he asked him about whether Harper's agrees that global warming is taking place.
I met Mr. Harper before he was even a leader of the party. I happened to run into him while he was being interviewed in the Parliament Buildings," Suzuki said.
"At that time he was denying global warming was an issue, and he was saying then, this is years and years ago, there's no way that we can meet a target like Kyoto. It's too expensive. Well it's a hell of a lot more expensive now."