North America preparing for Environmental Change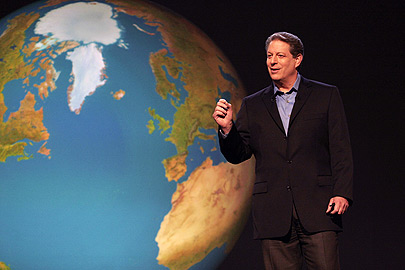 Gore no more the bore
The once bland ex-U.S. vice-president has morphed into a cultural hero amid calls to try again for America's top job
Tim Harper - February 17th 2007.
WASHINGTON–Travel this country 11 months out from the 2008 presidential primaries and a reporter hears the same three questions from cabbies, hotel receptionists and strangers in airport bars.
"So, whaddya think about Obama?" "Do you think Hillary could actually win?" "Do you think Al Gore will run?"
In many ways, the third query is the most intriguing.
In a political culture where second chances are only rarely given – John Kerry being the latest example – there is a surprising well of support for another chance for Gore.
Forget for a moment that many Democrats in this country believe Gore won in 2000, forget the "what-if" cottage industry besotted with their view of the world with Gore at the helm for the past six years.
The second chance the former vice-president is being offered is a testament to the way the man has transformed himself, from the wooden, geeky campaigner whose political future was doomed by the country's highest court, to an environmental visionary creating an unprecedented buzz wherever he goes.
Bland, yawn-inducing Al Gore – suddenly cool in 2007?
When Torontonians see Gore this week at a sold-out Convocation Hall appearance, they will be watching a man whose fans now have dubbed him "The Goracle," a man who is watching the world catch up to his lifelong campaign against global warming.
He has not fully closed the door on another presidential run, a bid which would be his third after unsuccessful campaigns in 1988 and 2000.
It doesn't matter.
The reluctant candidate went up three points in a USA Today/CNN poll of potential Democratic nominees this week and is really the only person in either mainstream party who can afford to bide his or her time and enter at a point of his choosing.
He has the money.
By some inside estimates within the Democratic party he could likely raise $200 million (U.S.) over the Internet.
Failing that, he has a personal fortune to fall back on.
He will readily assemble a campaign, and right now he is riding a wave of adulation which is giving him far more positive coverage than any politician could glean from a weekend of town hall meetings in Iowa.
"Al Gore could enter the race tomorrow, September or November," said Democratic strategist Donna Brazile, his 2000 campaign manager.
"Anything after November would be a mistake. A lot of candidates got in early for name recognition, or because they need the time to raise money.
"And some of these people are going to burn out by next September.
"Al Gore is a much different man than he was in 2000. He has the credibility and the stature.
"He has become a cultural hero."
It begs the question, however – is the 58-year-old Gore riding this wave because he is no longer a politician, but a no-holds-barred crusader? Would the gloss fade immediately if he jumped back into the political fray he first entered at the age of 28?
In modern American history, only Richard Nixon was allowed to climb from the electoral grave after a failed presidential bid and return to finally winning the Oval Office.
It is not a comparison his backers are anxious to advertise.
But there is a difference.
Most of the myriad draft Gore websites make mention of his victory in the 2000 popular vote and believe he was cheated of the presidency.
"His wonkishness, which was a liability in 2000, is exactly what we need today," said Dylan Malone of Everett, Wash., who runs AlGore.org, a movement to draft him into the race.
Consider Gore's profile in 2007. It cuts across demographic lines rarely crossed by mainstream politicians.
In recent weeks, he sat alongside Richard Branson as the flamboyant British billionaire offered a $25 million (U.S.) prize to anyone who figures how to remove a billion tonnes of carbon dioxide from the atmosphere.
Sunday in Los Angeles, he received a rapturous welcome at the Grammy Awards.
He was similarly received at the MTV awards. David Letterman turned over his entire show to the former vice-president to talk about climate change recently.
Rolling Stone wrote if Democrats tried to construct the perfect presidential candidate, they would be hard-pressed to improve upon Gore.
Next Sunday, he will be at the Academy Awards where his movie, An Inconvenient Truth, is up for two Oscars.
He is a Nobel Peace Prize nominee for his environmental efforts.
Thursday, flanked by actor Cameron Diaz, Gore added the likes of the Red Hot Chili Peppers, Bon Jovi, Snoop Dogg and the Dave Matthews Band to his stable, just a few of more than 100 acts who will appear at Gore's Live Earth, 24-hour concerts in July to raise awareness of global warming.
Gore believes some 2 billion people could attend or watch concerts in China, South Africa, Australia, England, Japan, Brazil and the U.S.
The American show is expected to be in Washington, where Gore fruitlessly tried to move the U.S. Congress into action on global warming for years.
Next month, he will testify before a congressional environment committee, and he will return to his old haunts no longer a member from Tennessee or even a vice-president, but something of a cultural icon.
He is also a darling of the anti-war crowd, having first attacked U.S. President George W. Bush's then-looming invasion of Iraq in a September 2002, speech in which he said regime change in Iraq would undermine the war against Al Qaeda.
After the March 2003 invasion, he was once again far ahead of the Democratic party in his anti-war speeches, including one memorable screed sponsored by the liberal MoveOn.org.
He also became a vocal and eloquent critic of the erosion of civil liberties under Bush, the atrocities at Abu Ghraib, the plummeting U.S. reputation worldwide.
But the key to his performance may be that he is out of politics, free to take on a cause which advisers largely took from his arsenal in 2000, during a campaign when the image-makers placed him in a straitjacket and tried to market him like a new product on the shelves.
"There is unfinished business here," said Monica Friedlander, an Oakland, Calif., communications manager who runs another draft Gore website.
"I think the voice of the people was not heard in 2000 and that has haunted people ever since. They feel the wrong person was inaugurated."
Brazile likes to tell a story from the 2000 campaign as she prepared Gore for a crucial editorial board meeting with a black newspaper in New York.
"He got in there and he gathered them all in a circle and started talking about global warming," she recalled.
"I thought, `He's crazy, blacks don't think green. We're going to lose this endorsement.'
"But you know what? We got the endorsement. And he wanted to talk to them about that subject because he was so passionate about it.
"And that was seven years ago."
Certainly not everyone is enamoured of Gore.
Despite the Supreme Court decision and the sense that he was robbed of the presidency, others in the party were furious that he had fumbled what should have been a slam dunk in 2000 against Bush, who Democratic elders saw as a frat boy running on daddy's coattails.
He also angered those close to Bill Clinton – including 2008 front-runner Hillary Clinton and the former president himself – by distancing himself from his two-term partner in the White House.
Terry McAuliffe, the former chair of the Democratic National Committee, revisits those hard feelings in his book What A Party! My Life among Democrats, Presidents, Candidates, Donors, Activists, Alligators and Other Wild Animals.
He said Gore was wrong to run away from Clinton over the Monica Lewinsky impeachment scandal.
"I said to the vice-president I thought this was a big mistake," McAuliffe told MSNBC. "Bill Clinton had a 66 per cent approval rating. And the idea was that you didn't want to use him because of the issues around impeachment – I remind you in 1998 in the president's six-year term, we actually picked up congressional seats."
McAuliffe said he didn't think Gore would run in 2008, although he conceded in an interview with Tim Russert that he was the one candidate who could bide his time.
"He's on the top of the world now, he's having such an impact, and he doesn't have to put up with all the stuff you have to put up with running for president," said McAuliffe, who is chairing Hillary Clinton's campaign.
"So I don't think he'll do it."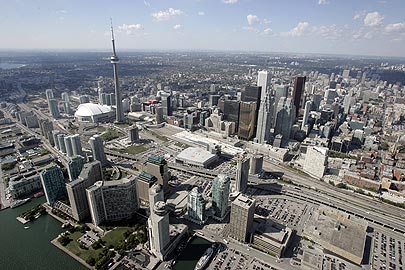 Blueprint green
David Miller says this will be North America's greenest city. Chicago's goal is exactly the same. Here's how Toronto can triumph, the Star's environmental action plan for Toronto
Peter Gorrie - February 17th 2007.
When it comes to the environment, cities are where the action is.
Fed up with the dithering of national governments on climate change and other threats, hundreds of municipalities around the world are taking matters into their own hands. Since half the world's people now live in urban areas, these efforts could have a powerful impact.
Mayor David Miller wants to be part of that movement. "We will be the leading environmental city in North America, without question," he vowed in the Star last month.
We intend to track how well Miller and his council keep that pledge. We've consulted experts who are proposing major targets for environmental change, and we're setting out the crucial steps necessary to reach them. We'll use the benchmarks to assess Toronto and compare it to other cities.
It's a golden opportunity. The council claims to have its first green majority. The environment scores high on opinion polls. Climate change has engaged much of the world. Many businesses recognize the need to back the trend.
With less pollution and better planning, Toronto simply will be a better place to live. We'll enjoy parks and bike paths, and swimming at our beaches. We'll be less likely to be stuck in traffic jams. With reduced smog and toxic chemicals, we'll be healthier. By becoming more efficient and cutting health-care costs, we'll save money.
Other improvements are not as obvious but just as crucial. Most important, the city will be able to play a significant part in warding off the predicted ravages of climate change: searing heat waves; long periods of drought punctuated by destructive storms; the spread of pests and diseases.
Toronto has had environmental successes, particularly in recycling and using water from deep in Lake Ontario to cool downtown buildings.
"You name it, we've led," boasts Deputy Mayor Joe Pantalone.
Still, the city faces a long climb to the top and next month, Miller will unveil his plan on how to get there.
The yardsticks we'll use to assess progress are tough but reasonable. They include: # For clean air, cut greenhouse gas emissions 30 per cent by 2020, and achieve zero smog alert days. # For clean water, achieve zero beach closings. # For less waste, increase diversion from landfill to 70 per cent from the current 40. # For more natural spaces, increase in the city's tree canopy – the leafy cover you'd see if you flew over the city – to 30 per cent, from the current 18.
We'll also keep close tabs on the 905 regions: They have the same stake in becoming green, and some major issues, such as urban sprawl and transit, can't be resolved without them.
And we'll pay particular attention to Chicago, our sister city. It's about the same size, with a similar history. It, too, is on a Great Lake, it's reinventing itself after losing many of its manufacturing jobs, and it faces almost identical environmental challenges.
Like Miller, Mayor Richard Daley vows his city will be the greenest. Two years ago Daley unveiled his own action plan and in April, a conference of politicians, environmentalists and scientists will evaluate what he has accomplished.
In an Earth Day message last April 22, he said he saw protecting the environment as part of his life's work. Daley's goal? To make Chicago "the greenest and most environmentally-friendly city in America."
Last year, the two men were pictured side-by-side in Vanity Fair as part of a package of flattering portraits of North America's greenest mayors.
And more than 402 American cities have signed the "Mayors' Climate Protection Agreement," which commits them to meet the United States's Kyoto Protocol goal.
"Each city keeps upping the ante," says Warren Karlenzig of Sustainlane, one of the U.S. groups that ranks cities. "That's what's going on now."
Perhaps this has become a race.
"That would be an excellent competition," Pantalone says. "If we all compete, everyone will benefit."
Toronto may seem to be a minor performer in some areas, particularly climate change. People here can't do much about the greenhouse gases spewing from Alberta's tar sands, or the reluctance of our federal and provincial governments to take decisive steps. Canada can't tell China to stop building coal-fuelled electricity generating stations.
But every bit helps. If cities clean up their act, then, their little corner of the world will be improved. If they're aggressive, they'll demonstrate to others the environmental and economic gains.
And if individuals see that they can produce results, they're less likely to feel helpless in the face of the national or global picture. They might even feel empowered to persuade senior governments and polluting industries to stop their dithering.
An early indication will come next month, when – after a series of workshops and symposiums – Miller will set out his climate change plan, with a new emissions target to replace one that fell by the wayside.
There's no doubt it will be tough to figure out who's greenest, since there are vast differences among cities. And not all targets are created equal, either.
Eliminating smog alerts would be difficult in Toronto or Chicago, but not so hard in, say, Boulder, Colo., where fresh breezes blow pollutants across the mountains. Should cities be rated on their actual environmental conditions, or on their effort?
Older, denser cities like Toronto, Chicago and New York tend to do better in environmental rankings despite reputations for being polluted because they are far more efficient than spread-out municipalities. That's one reason why, at just under 10 tonnes per person, Toronto's greenhouse gas emissions are less than half the Canadian average, for example.
Some cities do well on particular measures but not on others. In Chicago, the city and private developers have installed, or plan, about 300 green roofs, totalling more than 3 million sq. ft.: Toronto's program is only a third that size.
The Windy City has a worse record when it comes to recycling: It's diverting about half as much as our 40 per cent waste diversion rate. But both cities are well behind San Francisco, which is already diverting 67 per cent.
Simply setting targets isn't enough. Back in 1988, Toronto committed to cut the city's greenhouse gas emissions 20 per cent by 2005. Emissions from municipal operations have dropped, but the overall goal fell by the wayside.
Nor is it sufficient for cities to simply have policies: The measures must be effective. Many U.S. cities, for example, claim they have programs to control urban sprawl. But only one, in Portland, Ore., actually reins in development, says Charlie Lord of the Urban Ecology Institute at Boston College. While others offer developers meek incentives to do better, Portland drew a firm line 25 years ago with no sewer and water services beyond it. Many North American cities promote construction of energy-efficient buildings, some with minimal incentives. Others, as in Chicago – where developers get fee rebates and quick permit approvals for green buildings – have an impact. Only Boston now sets a mandatory standard for all large buildings.Toronto has a voluntary standard that city officials and politicians are to consider making a requirement.
Cities also don't control some problems' sources. Miami blames its poor greenhouse emissions record on the U.S. government's failure to impose car fuel efficiency standards. Much of Toronto's smog comes from coal-fuelled generating stations in the U.S. Midwest, and Ontario's giant Nanticoke plant.
Even worse, opponents have undermined good efforts: Last November, Oregon voters dealt a potentially lethal blow to Portland's sprawl control when, in a state referendum, they ordered the city to begin to compensate developers who claim the policy costs them potential income.
The targets proposed by our experts, outlined on the centre pages of today's GTA section, can generally be applied to most urban areas – accepting that many lack beaches and some can't grow trees – and they will measure real progress.
"These are some core characteristics of cities' performance that are crucial and that speak to the commitment ... to develop a sustainable city," Lord says.
Five cities making a difference
Rizhao, China: Almost every household in the central districts of this coastal city of 3 million now has a solar water heater. Most traffic signals and street and park lights are powered by solar cells.
Malmo, Sweden: In a new district of 1,000 homes, all the electricity comes from wind and solar power. The city gets heat from underground rocks, and fuels vehicles with biogas from local garbage and sewage.
Oslo, Norway: In this city, sewage warms homes. Heat from the underground system is transferred to water pipes that feed radiators in homes throughout the city.
Melbourne, Australia: The city planned a 30 per cent cut in carbon dioxide emissions from municipal operations by 2010, but has done so well it boosted the target to 50 per cent. The new city hall uses 87 per cent less energy and 72 per cent less water than the one it replaced.
Chicago: Trees are planted along the former centre lanes of 115 kilometres of streets. Ex-convicts repair old computers, which are donated to schools, community centres and low-income people.