Global Warming in Russia & the North Atlantic
Mild winter rattles Russians
Psychiatrists warn lack of cold, sun, snow lead some into depression
Michael Mainville - January 20th 2007.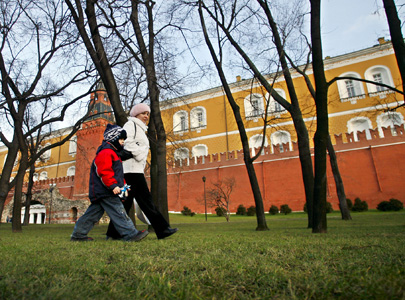 MOSCOW – Grass is growing outside the Kremlin this week, a shock to some Moscow residents. The state weather service says it's never before recorded such protracted unseasonably warm winter temperatures in the European part of Russia since data collecting began in 1879.
Russians normally revel in frosty winters, which are credited with helping them fend off invasions from both Napoleon Bonaparte and Adolf Hitler. So winter's reluctance to appear this year has left them deeply perturbed.
Like much of Europe, Russia is experiencing an exceptionally warm winter, with temperatures reaching 10C, grass in city parks and not a fur cap in sight.
Grey skies have hung over Moscow for weeks, occasionally disgorging bursts of rain that leave the city wet and dreary.
Experts are warning of outbreaks of depression and even the country's animals are frazzled. At the Leningradsky Zoo in St. Petersburg, officials said this week that two of the zoo's five bears and some of its hedgehogs have come out of hibernation weeks ahead of time.
In rural areas, officials have issued warnings to look out for wild bears that might be aggressive after waking up early.
Psychiatrists in Moscow say the lack of sun and snow – which reflects sunlight to brighten short, dark days – is leaving many depressed.
"The clouds, the short days and the lack of light can have a deep psychological effect even on people who are mentally healthy," says Denis Osipov, a psychotherapist at Moscow's Institute for Positive Psychotherapy.
"And without snow, the city looks filthy. It's hard to feel happy when everyone around you looks dirty and miserable," he said.
Osipov says he has been recommending to patients that they spend as much time as they can outside during the day, even if the sky is overcast, and that they eat more fruits and vegetables to make up for a lack of vitamin D, which is manufactured by the body after exposure to sunshine. In extreme cases, he recommends that patients spend short periods of time under sun lamps.
Tatyana Dmitriyeva, director of Moscow's Serbsky Institute for Social and Forensic Psychiatry, suggests that parents not read stories to their children about snowy winters.
"Small children develop depressive conditions when they hear about snow and ice and see mud and rain instead," she told Itar-Tass news agency.
"This December and January have been the warmest since we started keeping weather records in 1879," says Tatyana Pozdnyakova, a spokesperson for the Moscow Meteorological Bureau.
"These kinds of temperatures are more what we would expect in the autumn or spring."
Temperatures in Moscow have climbed above 8C at least four times this month. At an outdoor rink set up on one side of Red Square, city employees are using powerful generators to keep the ice frozen, forcing it to close frequently.
Nearby, the grass along the outer walls of the Kremlin walls is bright green.
In St. Petersburg, the warm weather has led to floods normally not seen until spring. And in the northeastern city of Arkhangelsk, officials are warning of melting permafrost.
Russia is hardly alone, with much of Europe seeing record-high temperatures this winter. World Cup skiing organizers have had to cancel events in the Alps due to the lack of snow.
On Russian television, meteorologists have become the new stars of debate programs, with some saying global warming is killing Russia's famed winters, others that this winter is only a rare exception.
Critics of global warming point out that last year Russia experienced one of its coldest winters on record. Temperatures plummeted to minus 34C in Moscow on Jan. 20 last year, the lowest recorded since 1927.
Weather forecasters in Russia are predicting that temperatures will fall by the end of January and that snow might finally arrive as early as next week.
Accustomed to spending winter weekends skiing, skating and ice fishing outside the city, many Muscovites can hardly wait.
"We bought our little boy a new pair of skis and he keeps asking us when he'll be able to use them," says Evgeny Tikhonov, a 33-year-old furniture maker.
"I keep saying, `Soon, soon,' but he's losing patience."
Still, not everyone is pining for freezing temperatures and knee-deep snow.
"Are you kidding?" says 22-year-old student Anya Dolginova when asked if she's bothered by the warm weather.
Strolling Moscow's trendy Tverskaya Street in a short skirt with her jacket open, Dolginova says she doesn't understand how anyone could miss the cold. "This is great. It feels like London. I wish every winter was like this."
---
Warmer waters draw sea life from afar
Reuters - January 20th 2007.
OSLO, Norway–Parts of the North Atlantic are setting winter heat records, allowing species ranging from swordfish to jellyfish to thrive beyond their normal ranges in a shift many scientists link to global warming.
Temperatures in Arctic waters off northern Europe at the tail end of the Gulf Stream, for example, are about 6.7C, the highest for early January since records began in the 1930s, according to Norway's Institute of Marine Research.
The world's oceans are already in a warming trend that could alter fish stocks, perhaps damaging coral reefs that are vital nurseries for tropical species while boosting northern stocks of cod or herring.
"The global oceans have been warming since the middle 1970s and several studies have shown that the warming can be attributed to a human-produced signal," said James Hurrell of the U.S. National Center for Atmospheric Research.
Off New York this week, rescuers guided eight dolphins into open water after they became stranded in a shallow cove, apparently because unusually warm waters meant fish on which they feed were staying closer to the coast.
A species of Black Sea jellyfish seems to have become established off Scandinavia, perhaps flushed out of the ballast tanks of visiting ships and now able to survive because of less chilly waters in winter.
---
Landmark UN study backs climate theory
2,000 scientists all but end the debate: Human activity causes global warming
Peter Gorrie - January 19th 2007.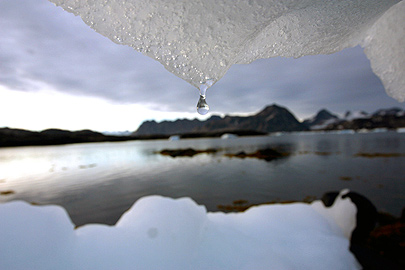 A major new United Nations report shows global scientists are more convinced than ever that human activity is causing climate change, the Toronto Star has learned.
The rate of warming between now and 2030 is likely to be twice that of the previous century, it says.
And it concludes that most of the global warming since the middle of the last century has been caused by man-made greenhouse gases.
The report, to be released in Paris Feb. 2, should all but end any debate on climate change and compel governments and industries to take urgent measures to deal with it, scientists say.
"It is very likely that (man-made) greenhouse gas increases caused most of the globally average temperature increases since the mid-20th century," states the report of the Intergovernmental Panel on Climate Change.
In the clinical language of science, it paints a stark picture of the effects of greenhouse gas emissions:
"Discernible human influences now extend to other aspects of climate, including continental average temperatures, atmospheric circulation patterns and some types of extremes."
It is "very likely that hot extremes, heat waves and heavy precipitation events will continue to become more frequent." Storm tracks will move from the tropics toward the poles.
The widely anticipated report is the fourth by the IPCC, which every few years publishes the definitive conclusions of about 2,000 scientists who are recognized as experts in their respective fields. Each one has moved closer to closing debate on the causes and effects of climate change.
The portion of the report obtained by the Star is called the final draft of the "Summary for Policy Makers."
The summary states that the warming effect of greenhouse gases increased by 20 per cent during the past decade – "the largest change observed or inferred for any decade in at least the last 200 years."
Global warming would be even greater had it not been slowed by other forms of pollution that stopped some of the sun's energy from reaching the Earth.
Rebutting one of the main arguments of climate change skeptics, it says observations of temperature increases and shrinking ice cover, "support the conclusion that it is extremely unlikely that global climate change of the past 50 years" was caused by solar flares or other natural events.
Eleven of the past 12 years have been the hottest in Earth's recent history, it says.
All the continents except Antarctica have warmed during the past half-century, with the biggest impacts in Canada's Arctic and other northern regions.
Research since the third report was released in 2001 increases the certainty about climate change and the likely scale of most of its effects, including warmer temperatures and severe weather, the report states.
One crucial prediction has been made a bit less worrying: Although sea level is rising – for now, mainly because the oceans are warming to a depth of at least 3,000 metres, and expanding – the estimates for how much it will go up have been lowered.
The summary also notes that there has been, as yet, little change in the North Atlantic Drift, the warm current that gives Britain and northern Europe a relatively temperate climate and that is expected to slow, or stop, as climate change alters the ocean.
It will slow, but not abruptly during the coming century, the report says.
For the most part, though, the conclusions point in a single direction:
"Warming of the climate system is unequivocal."
The report estimates that if the amount of carbon dioxide in the atmosphere could be kept below 550 parts per million – which would take a major worldwide effort to cut greenhouse gas emissions – the average global temperature would rise by 2 to 4.5 degrees Celsius above the level before the Industrial Revolution started about 250 years ago.
The current carbon level is about 380 parts per million and rising steadily, compared with 280 at the time humans began burning large amounts of coal, oil and other fossil fuels.
The temperature estimate depends on which combination of computer model and research data is used.
The upper forecast is higher than in previous reports.
"Values higher than 4.5 C cannot be excluded" because of "feedbacks," such as the increased ability of the atmosphere to absorb water vapour – an extremely potent greenhouse gas – as it heats up, and the greater warmth absorbed as Arctic ice melts.
Regional forecasts of climate change effects are better than in the previous report, and they predict the greatest warming at northern latitudes and high altitudes, and the least over the North Atlantic and the southern oceans.
The north faces the biggest increase in precipitation.