Climate Change will Shrink the Economy by 20%
Climate change fight 'can't wait'
UK News - October 31st 2006.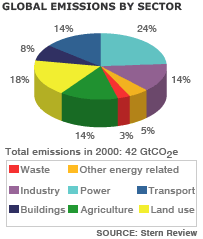 The world cannot afford to wait before tackling climate change, the UK prime minister has warned.
A report by economist Sir Nicholas Stern suggests that global warming could shrink the global economy by 20%.
But taking action now would cost just 1% of global gross domestic product, the 700-page study says.
Tony Blair said the Stern Review showed that scientific evidence of global warming was "overwhelming" and its consequences "disastrous".
International response
The review coincides with the release of new data by the United Nations showing an upward trend in emission of greenhouse gases - a development for which Sir Nicholas said that rich countries must shoulder most of the responsibility.
And Chancellor Gordon Brown promised the UK would lead the international response to tackle climate change.
The BBC's Nick Robinson said that, while the Stern Review did not recommend specific tax rises, upping the cost of flying - both people and goods - and driving was on the agenda of all three main political parties.
Environment Secretary David Miliband said the Queen's Speech would now feature a climate bill to establish an independent Carbon Committee to "work with government to reduce emissions over time and across the economy".
The report says that without action, up to 200 million people could become refugees as their homes are hit by drought or flood.
"Whilst there is much more we need to understand - both in science and economics - we know enough now to be clear about the magnitude of the risks, the timescale for action and how to act effectively," Sir Nicholas said.
"That's why I'm optimistic - having done this review - that we have the time and knowledge to act. But only if we act internationally, strongly and urgently."
Mr Blair said the consequences for the planet of inaction were "literally disastrous".
"This disaster is not set to happen in some science fiction future many years ahead, but in our lifetime," he said.
"Investment now will pay us back many times in the future, not just environmentally but economically as well."
"For every £1 invested now we can save £5, or possibly more, by acting now.
"We can't wait the five years it took to negotiate Kyoto - we simply don't have the time. We accept we have to go further (than Kyoto)."
Large risks
Sir Nicholas, a former chief economist of the World Bank, told BBC Radio 4's Today programme: "Unless it's international, we will not make the reductions on the scale which will be required."
He went on: "What we have shown is the magnitude of these risks is very large and has to be taken into account in the kind of investments the world makes today and the consumption patterns it has."
The Stern Review forecasts that 1% of global gross domestic product (GDP) must be spent on tackling climate change immediately.
It warns that if no action is taken:
Floods from rising sea levels could displace up to 100 million people
Melting glaciers could cause water shortages for 1 in 6 of the world's population
Wildlife will be harmed; at worst up to 40% of species could become extinct
Droughts may create tens or even hundreds of millions of "climate refugees"

Clear objectives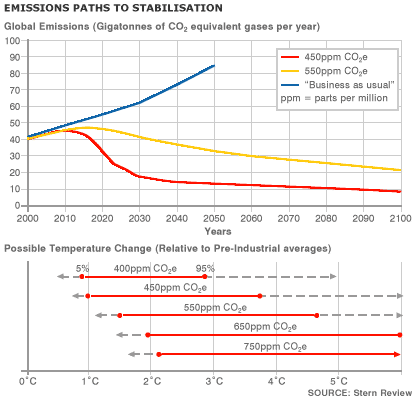 The study is the first major contribution to the global warming debate by an economist, rather than an environmental scientist.
Mr Brown, who commissioned the report, has also recruited former US Vice-President Al Gore as an environment adviser.
"In the 20th century our national economic ambitions were the twin objectives of achieving stable economic growth and full employment," Mr Brown said.
"Now in the 21st century our new objectives are clear, they are threefold: growth, full employment and environmental care."
He said the green challenge was also an opportunity "for new markets, for new jobs, new technologies, new exports where companies, universities and social enterprises in Britain can lead the world".
"And then there is the greatest opportunity of all, the prize of securing and safeguarding the planet for our generations to come."
Mr Brown called for a long-term framework of a worldwide carbon market that would lead to "a low-carbon global economy". Among his plans are:
Reducing European-wide emissions by 30% by 2020, and at least 60% by 2050
By 2010, having 5% of all UK vehicles running on biofuels
Creating an independent environmental authority to work with the government
Establishing trade links with Brazil, Papua New Guinea and Costa Rica to ensure sustainable forestry
Working with China on clean coal technologies

The review was welcomed by groups including the European Commission and business group the CBI.

"Provided we act with sufficient speed, we will not have to make a choice between averting climate change and promoting growth and investment," said CBI head Richard Lambert.

Pia Hansen, of the European Commission, said the report "clearly makes a case for action".

"Climate change is not a problem that Europe can afford to put into the 'too difficult' pile," she said.

"It is not an option to wait and see, and we must act now."
---
U.K. climate author invited to Canada to spread word.
Allan Woods - January 24th 2007.
OTTAWA–The British author of one of the most alarming reports about the global impact of climate change is being sought to testify before a Commons committee that wants to re-write the Harper government's environmental legislation.
Sir Nicholas Stern, a former World Bank economist, will be in Toronto on Feb. 19 to speak about the 700-page report he presented to British Prime Minister Tony Blair last fall.
The Stern review found that global warming could shrink the world's economy by between five per cent and 20 per cent if governments fail to take any action.
New Democrat MP Nathan Cullen said the chair of the Commons legislative committee has been asked to formally invite Stern to present his findings to members of Parliament so that Canadians and the Conservative government understand the urgency of action on the environment.
"If (Stern's) in the country and we can pull this off, I think it would do Canadians a lot of good to hear directly from him about what Canada acting on climate change means economically for us," Cullen told the Toronto Star yesterday from his British Columbia riding of Skeena-Bulkley.
The thrust of Stern's report is that it is cheaper to take immediate action to halt climate change than it would be to cope with its aftermath.
Ottawa Liberal MP David McGuinty, the party's environment critic, said he has also put forward a list of potential witnesses. That list includes James Cameron, a British lawyer who helped draft the Kyoto accord and now heads up an investment bank focusing on opportunities in the "low-carbon economy."
The committee hearings begin Monday.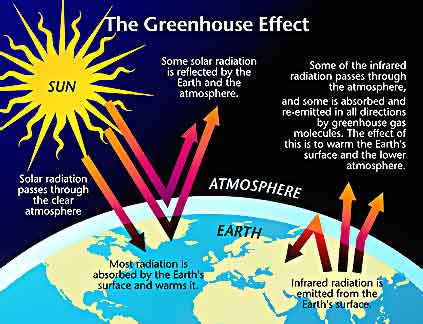 ---
Climate change wreaking havoc on Canada's North
Ann Carroll - December 3rd 2005.
MONTREAL - Take it from Jose Kusugak: climate change is turning life upside down for indigenous peoples in Canada's North.
Extreme weather shifts in the Arctic bring in their wake swarms of insects, treacherously thin ice floes and fast-spoiling food supplies, the Inuit community leader said Friday at the United Nations World Climate Change Conference.
"Many nations think of vulnerability and adaptation to climate change in the abstract -- we experience it," said Kusugak, president of Inuit Tapiriit Kanatami.
The national association, which represents about 54,000 Inuit in four regions across Canada, Friday launched Unikkaaqatigiit: Putting the Human Face on Climate Change -- Perspectives from Inuit in Canada.
The study, available online at www.itk.ca, was conducted over four years in partnership with Laval University, the National Aboriginal Health Organization, Inuit land-claim organizations and 17 Inuit communities across the Arctic.
"If anyone knows about climate change, it's people who live their lives outside," said Kusugak, 55, who was born in Repulse Bay, Nunavut
Dramatic climate changes and their impact on everyday life are troubling for many traditionalists, he added.
"Unusual animals are appearing where I hunt. I'd rather not have these species in my hunting grounds,'' Naalak Nappaluk, 84, a Nunavik community elder who attended the UN conference to voice his concerns about climate change, said through an Inuktitut translator, citing lynx and a new variety of seal pups. "They are not good for the health of the existing animals, and disrupt the balance of nature."
Muctar Akumalik, 73, is perplexed by weather changes around his home in Arctic Bay, Nunavut.
"I used to be able to predict the weather, but now I often get it wrong," Akumalik said, through his translator.
Arctic travel is also more difficult because increasingly strong winds blow snow cover from the trails used by dog teams and snowmobiles, Akumalik added.
New land roads to link isolated communities, freezers and food exchanges for lean times, improved housing and drinking water treatment plants are among recommendations listed in the Inuit perspectives study.
Not that climate change has been all bad, said Kusugak, who enjoys more occasions to go out on his boat and to fish during prolonged warm spells.
But the downside -- rotting meat, unexpected ice cracks under foot, homes shifting in the softened permafrost -- is more worrisome, he said.
"People are dying because of the quick pace of climate change in the Arctic," Kusugak said. "It's like a new world out there, and a not so good one when you consider that we depend on history and traditional knowledge to live, hunt and prepare food."