Branson offers a $25 million prize for reducing global warming
Branson prize to fight global warming
James Kanter - February 9th 2007.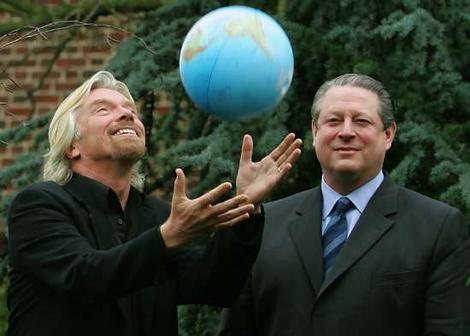 LONDON: Imagine, if you will, a giant vacuum cleaner for the atmosphere.
That is what the British billionaire Richard Branson and the former U.S. Vice President Al Gore seemed to appeal for on Friday, when they announced a $25 million prize to overcome what could be the biggest challenge faced by humankind: To reduce the huge quantities of planet- warming gases that have collected in the atmosphere since the dawn of the industrial revolution.
"We are now facing a planetary emergency," said Gore, the author of "An Inconvenient Truth," a book and the subject of an Oscar-nominated documentary film about global warming. "Things which would never otherwise have been entertained as possibilities now must be explored, that's really the reality," Gore said at a news conference in London.
Branson called on governments to match the money he had offered for the prize, which he likened to previous efforts by governments and benefactors to encourage great leaps forward in technologies, like a competition from the British government that led to a method of estimating longitude accurately, saving thousands of lives at sea.
Gore, who with Branson, will be one of six judges, said the prize was intended for a project that would be entirely different from technologies currently under development that capture and store large amounts of carbon dioxide from heavy emitters like coal- fired electricity stations.
Gore also said the prize-winner would have to develop a project that would be more than a stop-gap step against climate change. "This is a very new and different way of thinking," Gore said, referring to the removal of carbon dioxide already loose in the atmosphere. Gore had emphasized in his film that personal and political will were the only missing factors in limiting smokestack and tailpipe emissions linked to rising temperatures. But on Friday, Gore also made plain that big technological gaps needed filling, too.
Kalee Kreider, a spokeswoman for Gore, said in an e-mail message, "There's no shift in thinking." Kreider added, "There's just only so much you can put in a 90-minute film!"
Even so, experts in climate change said the prize money might be better spent on projects with more of a chance of success, like building cleaner engines for cars, and ensuring that other far more plausible technologies eventually reached the marketplace.
"This project may hold particular appeal in the aviation industry as there really are no other viable, cleaner fuels in the pipeline," said Steve Rayner, a professor of science and civilization at Oxford University. "I think that's why Branson has latched onto this."
Rayner said plans for a vast extraction device to clean carbon from the air ó a so-called synthetic tree ó had been developed by Klaus Lackner, a professor at Columbia University. But Lackner's project had never left the drawing board, said Rayner, who added that one of the only existing technologies to remove carbon dioxide from the air was on nuclear submarines, where the crews sometimes spent months underneath the ocean.
Steve Howard of the Climate Group, a nonprofit organization that Branson said would help judges with their deliberations, acknowledged there were currently few technologies on the horizon, but he hoped that innovators and entrepreneurs would now come forward to compete for the prize.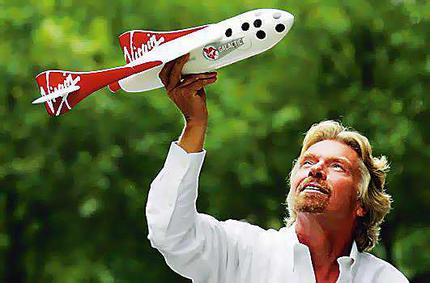 Branson denied any hypocrisy in announcing the prize because of the role that his airlines, which include Virgin Atlantic, play in contributing to carbon dioxide emissions. Branson, however, vowed to keep his airlines in the skies because his competitors would simply snap up the business and prevent him from pursuing cleaner aviation initiatives like towing jets to runways, and from reinvesting his profits into developing renewable sources of energy.
Air transport represented about 3.5 percent of global greenhouse gas emissions in 1990 but that figure could grow rapidly to about 15 percent by 2050, according to the Aviation Environment Federation, based in London, citing United Nations figures. Cars currently represent a far larger problem but many environmentalists say that aircraft release more harmful pollutants.
Branson's judges would award the "Virgin Earth Challenge" prize money to any individual or group developing a commercially viable technology capable of removing carbon dioxide and other greenhouse gases at the rate of at least one billion tons a year over a 10-year period. The prize, which could be divided, would be open for five years, and judges would meet annually to determine whether any projects merited the award. After five years, if no prize had yet been awarded, the judges would decide whether to extend the competition.
The other judges are: James Hansen, the head of the NASA Goddard Institute for Space Studies; James Lovelock, a British environmentalist and developer of a way of understanding earth science called Gaia theory; Crispin Tickell, a director at the James Martin Institute for Science and Civilization at Oxford; and Tim Flannery, an Australian scientist and conservationist.
Virgin officials said that the money for the $25-million prize would come from Branson's personal wealth.
---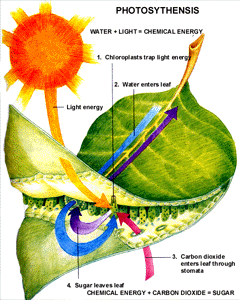 Bio-Engineer New Plants for Mass Photosynthesis?
Suzanne MacNevin - February 9th 2007.
Looking for an alternative route to decrease global warming? Try genetically engineering a plant (likely a tree because trees use up a lot of carbon dioxide) which can mass convert carbon dioxide.
Photosynthesis is the synthesis of sugar from light, carbon dioxide and water, with oxygen as a waste product. It is arguably the most important biochemical pathway known; nearly all life depends on it. It is an extremely complex process, comprised of many coordinated biochemical reactions. It occurs in higher plants, algae, some bacteria, and some protists, organisms collectively referred to as photoautotrophs.
6 CO2 + 12 H2O + photons -> C6H12O6 + 6 O2 + 6 H2O
carbon dioxide + water + light energy -> glucose + oxygen + water
Another Way: Artificial photosynthesis is a research field that attempts to replicate the natural process of photosynthesis, converting sunlight, water and carbon dioxide into carbohydrates and oxygen.
---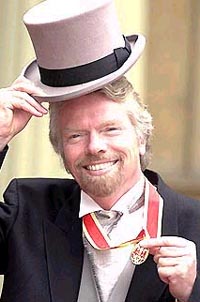 How Cool Is Richard Branson?
Mike Catherall - February 9th 2007.
The guy rules. First he makes himself a billionaire through edginess and irreverence and stomping around where his conservative competition dare not tread with Virgin, then, heís off to save the world.
Today he announced a $25 million reward to anyone who can come up with a way to stop global warming.
Money is a great motivator and $25 million is a good chunk of change.
During World War II there was a race against time to build the atom bomb. The most brilliant scientists in the world were working on a death machine. Itís very ironic, but the way of the world, smart people usually go where the money is, after all, itís rather smart to make money.
Today the top minds are lured into weapons and pharmaceuticals. There just isnít the funding behind philanthropic causes. Until now.
It would be amazing to see a think-tank start up with only this prize in mind. The top scientists, lawyers, politicians, writers and businessmen joining forces with $25 million flashing like dollar signs in their eyes. They could make it into a reality show.
Either way, Richard Bransonís pledge has probably caught the imagination of many an inventor and entrepreneur and it is only a matter of time before we see some radical solutions pop up.
What a guy. PR stunt or no, itís a pyramid-worthy way of securing his dominion in this lifetime. Hats off.
---
Branson shakes telecoms industry
Virgin Media in TV, Internet and phones
Greg Wright - February 9th 2007.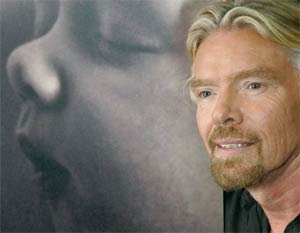 SIR Richard Branson yesterday pledged to shake up the telecoms and entertainment industry with the launch of Virgin Media Ė a rival to broadcasting giant BSkyB.
The tycoon unveiled Virgin Media, which is the new brand name for NTL after the cable operator bought Virgin Mobile and Telewest last year.
It offers digital television, broadband Internet access and mobile and home telephone services.
Virgin Media aims to be able to reach at least 97 per cent of UK households by the end of the year.
The 'quadplay' offering will be sold on the high street in 15 Virgin Mobile stores due to be opened this year, alongside 75 Virgin Megastores and promotional sites in more than 100 UK shopping centres.
Virgin Media is soon expected to announce a partnership with a retailer to sell the service in hundreds of shops across the country.
Virgin Media, available at a cost of between £20 and £40 depending on services chosen, will go head-to-head with rival BSkyB, which only last month launched its television and telephone package 'See, Speak, Surf'.
Virgin Media chairman Jim Mooney said at the launch event: "Virgin Media is better by far than what the competition has to offer. Our competitors have never had to deal with the Virgin brand coming down their tailpipe before and deal with the competition of customer services getting better and better week after week."
Sir Richard was whisked off by burlesque performer Dita von Teese after the launch to spend the day in a specially-created glass lounge in central London.
Virgin Media offers three price plans: two products from the 'quadplay' menu for £20, three for £30, or four for £40, plus the option of a "VIP" premium package.
The group is set to launch an interactive, TV-on-demand cable channel, called Virgin Central, later in the month, which will offer viewers access to a library of shows including Little Britain, West Wing and Nip/Tuck.
Virgin Media is in negotiations to renew its deal with BSkyB to air Sky One, which runs hit shows such as 24 and Lost, when the contract comes up for renewal at the end of the month, but the two companies have still to reach an agreement.
Relations between BSkyB and Virgin Media were strained after Rupert Murdoch's group scuppered NTL's hopes of a £5bn takeover of commercial broadcaster ITV at the end of last year when it bought a 17.9 per cent stake in ITV.
The move infuriated Sir Richard, NTL's largest shareholder, and is being investigated by Ofcom and the Office of Fair Trading.
Virgin Media's chairman said the group would not rule out further acquisitions similar to the ITV takeover attempt in a bid to secure content. NTL bought Virgin Mobile last year in a £962.4m deal just months after it bought Telewest for $6bn (£3.2bn).
In the latest report compiled by Internet testing company Epitiro, Virgin came fifth in the table of ADSL broadband providers in the UK.
BT was top, Pipex came second, and Orange and Demon were third and fourth respectively.
The Internet performance indicator report, compiled over the fourth quarter of 2006, is based on more than 622,000 data samples from 11 places around Britain.
Virgin had the lowest percentage of connection failures over the last three months of 2006, according to Epitiro's research.